on rainy Sunday evening, i visited the Taka Food Fest with my dear friends.
it was sooo crowded.
but some of the food were really yummy!!!
especially...
this: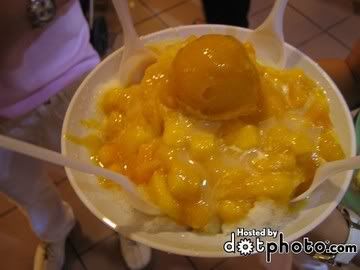 oh my!
it's one of the nicest thing i've had.
so sweet, so cooling.
absolutely heavenly!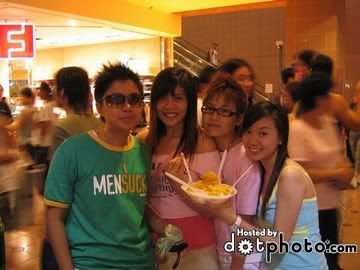 hello
person-in-green
,
i thought you were supposed to re-size this pic for me?!?
see lah, now it's so obvious that i'm the shortest!!
*pouts*
heck lah, short then short lor.
at least, i have nice hair mah.
*lol*
next up, Wala Wala.
chilling out time.
the perfect weather for a nice hot drink.
but silly me and
girl-in-pink
ordered 2 totally unknown to us Japanese beer on the menu.
just because we were curious,
and
*whispers* we love Japan.
and so, my beer tasted like Marmite, the brownish thing you mix with porridge.
which, fortunately, i began to develop a forced-interest for progressively.
supper at River Valley next.
i greedily finished a bowl of Fish soup with a bowl of rice dumped into it.
and a few pieces of fried tou foo.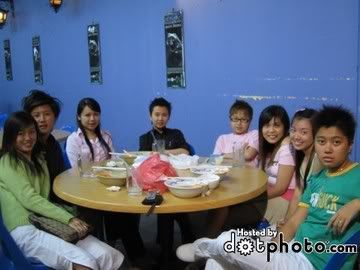 can you see cheeky me?
i dunno why
person-in-green
just had to sit in such a way where 78% of my body is blocked.
anyway, i'm not stating their names here for a reason, not for fun.
ok, the next day,
Bing and i visited the Taka Food Fest again!
this time, i tried the PEANUT BUTTER TOAST WITH CONDENSED MILK.
it's so nice!!!
and the one thing which i feel everyone should not miss at this food fest is the
BOBO SHO
it looks like "lor mai Kai" but it tastes way way way better than that!
fantastic!!!
order 2, cuz one is never enough.
btw, for interested gluttons like me, the TAKA food fest ends this coming Sunday, 17th July.
caught
Fantastic 4
but nothing really fantastic about this movie.
k, i admit i was dreaming during the first few minutes.
all my shopping loot arrived last week!
i have a sudden avalanche of new clothes!