a podder asked us to post picture of our wardrobes.
out of sheer boredom, i decided to snap pics of my over-cluttered, shattered, horrendous and unsightly one: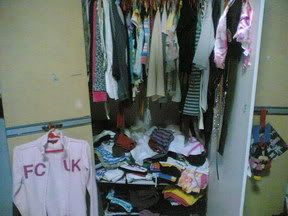 my poor wardrobe is suffering from a broken door and it's permanent as i have no intention of repairing it.
i know it's really sooo messy but i'm really a very lazy girl. *oops*
every day before i go teaching, i'll just grab a simple, presentable top and scram outta the house.
usually, within 1 or 2 hours, i'll be home after teaching, and i'll change into my comfy home clothes and chuck the ones i've worn aside.
when i feel like dressing to the nines, i'll open up my unsightly wardrobe and take out different tops and skirts to mix and match.
sometimes, looking for a particular top can be inevitably difficult.
while doing so, i'll get impatient and start messing up the whole wardrobe, turning it upside down.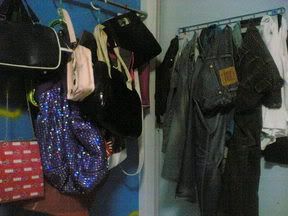 my room has limited space for my unlimited stuffs.
the bags that are hung up there are only 1/4 of my collection of bags.
the rest are chucked and squashed into narrow but long shelves, un-used.
well, some are used a couple of times before i decided that they should retire.
my mum has given up on me and my disabled wardrobe.
the only person who loves it is probably, little junior,
my dog
.
i think he feels cosily snuggled up in my jungle of clothes.