*JAPAN 2007 TRAVAGANZA!*
DAY ONE (TOKYO~1ST APRIL 07)
On board NWA.
Our plane departs at 6.05am in the morning, we had to reach Changi airport terminal 1 at around 4am due to the rigid security checks which takes up quite alot of time, we had to rush for breakfast but luckily breakfast is provided on board too!
around 8 hours later, we finally arrived at Narita airport in Japan!
it was around 1pm in Japan time, which is 1 hour ahead of the time here in Singapore.
There are various ways to get to Tokyo from Narita airport.
We chose to get to Tokyo by the Keisei Limited Express (there was a typo in the above picture, i dunno what i was thinking then!).
The tickets for Keisei Ltd Exp costs around 2500yen (if i remember correctly) and it takes around 90 mins.
It stops at Nippori and also Ueno station.
Inside the Keisei train.
Each cabin is separated by sliding doors which connects you to the next cabin just by sliding the doors and of course, walk thru them!
Our very first glimpse of Sakura (cherry blossoms!!)
these pics were snapped while in the train, we saw lots and lots of them!
Japan is really filled with these pretty trees, along the roads, in the fields, in school compounds, even in the gardens of private houses!
Sakuras are really sensitive flowers, they only bloom in the beginning of Spring and that usually occurs during the end week of March till the first 2 weeks of April, of course, subjected to unpredictable weather.
Keisei Limited Express.
We finally reached UENO station!
It's our very first destination in Tokyo and we were so excited and started whipping out our cameras to snap some pics.
We managed to find really big lockers to dump all our luggages in, as you can see, the lockers come in various sizes and prices.
The big one could store Bing's ultra big back pack and some smaller bags.
They're located within Ueno Station itself, if you can't find it, you can ask the tourist information counter at the station or the train master.
Smoking area.
It's a culture in Japan not to walk and smoke on the streets as it would be inconsiderate to other non smokers.
The busy streets of Ueno.
After a really short walk, we reached
UENO PARK!
It's crowded with many people taking leisurely strolls and viewing the beautiful sakura that fills the whole park and colours the whole sky pink.
The Japanese love having picnics, there were rows and rows of picnickers along UENO Park. The brought lots of food, snacks coupled with Sake.
Many of them were playing UNO cards too.
Besides the cherry blossoms, there were some other beautiful flowers too.
We chanced upon some shrines while strolling and exploring UENO Park.
You can drink the water or simply bless yourself by washing your hands with this water.
People hanging their wishes on this wish board.
Bad oracles are tied here for the wind to blow them far away.
A really nice view of UENO park from here
a Japanese policeman (Koban) on duty!
a van selling ice-cream!
crossing the road to the other side of UENO park. (we're just blindly walking around in fact)
and we stumbled upon this very lively food carnival where there were lots of street vendors selling all kinds of food.
There were many petite tables and chairs where we could sit down for the meals!
Our very first meal in Japan.
Warm Sake, Oden, Japanese fried noodles, fries.
Soft served ice-cream to add on to our meal!
it's nice and very cold having an ice-cream at such a cooling weather, i think the weather on this day is around 15 degrees celsius or so.
Giant squids on a stick!
after they're cooked, some seasoning and sauce will be added giving them a very rich flavour, lastly, they will be stuck on a stick, ready for us to eat and they're very very yummy and so easy to bite off!!
Fish!
this food street has lots of other yummy food like fried chicken, mashed potatoes, takopachi, korean delicacies and more!
Bing looks lost in the crowd!
Shinobazu Pond (UENO Park)
it's really breath-taking to see sakuras lining the lake while the cool wind blows past you.
It was getting a little dark by the time we saw this lovely lake and my old Casio camera couldn't capture the scene very well, but i'll post more pics of this lake when my friend passes me photos taken from her camera.
It's hard to find a toilet at UENO Park and when we finally found one, it stinks to the max!!
Next, we headed to Ameyoko Street, another popular shopping street among the tourists and locals.
It has mainly wholesale dried food, some imported apparels, lots of shoe shops on the other street next to Ameyoko.
Lots of people i know enjoy shopping at Ameyoko but for me, i think there are better places to shop than here, it largely depends on your shopping preferences.
Sashimi, seafood, giant takopachi along Ameyoko!
A Pachinko Parlour in Ameyoko.
a cute and unique cigarette box.
vending machines that dispense cigarettes.
an upsized-by-150ml can of coke!
a convenience store in Ameyoko that sells a wide array of bento sets, sushi, beverages etc.
in Japan, it's hard to go hungry with these convenience stores opened 24 hours a day, plus, they're cheap, filling and yummy!!
after Ameyoko, we proceeded back to UENO station to retrieve our heavy luggages.
we found a 24 hour chain restaurant which sells very cheap udon, rice and such.
This food chain is much better than Matsuya (we tried Matsuya later on during the trip), but i didn't take down the name of this cheap and good eatery.
Making phone calls back home in Singapore.
a 3G mobile phone + 3G sim card is needed in order to be able to activate the use of your mobile phone in Japan.
We didn't bother to bring our HPs there as such.
"Chilling" out at a nice place with many sakura trees near Tokyo Post Office cuz we were quite early for the night bus.
It's really chilly at night!!
Again, my dumb camera didn't do a good job of capturing the beautiful night scenes here so i didn't take many pictures, waiting to retrieve the other pics from my friends.
I'm actually so glad that this dumb camera's LCD screen had problems halfway thru the trip, cuz this gave me the most valid reason to get a brand new camera in Japan!!
End of Day One.
Will upload pics and details for Day Two soon, it will be on Kyoto with better pictures!
___________________________________________________________________________________
a side note:
some people asked me why i would rather rough it out and go free and easy for holidays instead of going by tours where everything is planned.
well, i personally think that to really understand and experience the culture and living style of the locals is to explore places by yourself, taking public transports, figuring out how to get from point A to B, eating what the locals eat, spending enough time in one place to truly immense and enjoy the place.
this is my personal opinion, of course, tours are suitable for family groups, people who have no time to plan.
so, since i'm still young, i'm going to plan my own travels as much as i can!!
when i'm old and have no time for these, i shall then rely on tours!
ok, besides the Japan trip, i wanna update what i bought today.
*i think i'm incorrigible*
i just came back from a mega shopping trip barely 3 days ago and i've started shopping again here in Singapore.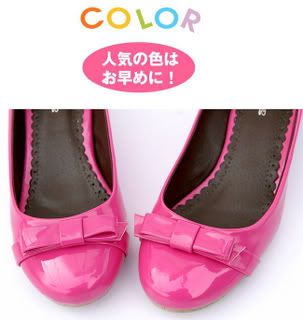 Barbie Pink Lolita Pumps!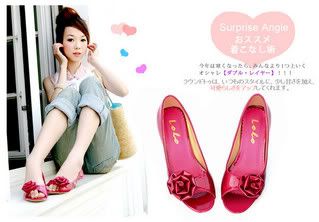 Roses Red Elegance.
(am i deprived of shoes since i didn't even get a single pair in Japan??)