*JAPAN 2007 TRAVAGANZA*
Day 2 (KYOTO~2nd April 07)
We just arrived at Kyoto and it's around 6am in the morning, it's already quite bright as compared to Singapore here.
The bus ride from Tokyo was an overnight one and it took around 7 hours.
it was really freezing and very very cold at that point of time.
my running nose sort of got better while i was in the bus but the moment i was in contact with the cold air outside, my nose almost dropped off.
Kyoto JR Station is really big!
and at 6am in the morning, there was hardly anything for us to eat except for MacDonald's but we didn't have that for breakfast.
Instead, we had breakfast at this fastfood restaurant above, my friends liked the food here, they say it's cheap and not bad.
i was annoyed and didn't take any pictures of the food cuz i lost my sense of taste due to my flu.
Kyoto Tower doesn't fascinate me very much, it's just a concrete skyscraper that isn't very nice in my opinion.
Behind Bing is the bus terminal.
In Kyoto, most of the famous tourists destinations (major shrines and temples) can be accessed by the bus.
We got the ONE DAY KYOTO BUS PASS which costs around 500Yen per person, for unlimited number of bus rides!!
It's very worth it as a single ride already costs 240Yen.
(you can get the Bus Pass from the tourist info counter at near the bus terminal).
After freezing in the cold air just to take pictures, we proceeded to take a bus to our guesthouse WARAKU AN.
It's half an hour bus ride from Kyoto Station and we alighted at Kumano Jinjya-mae and walked around 3 mins to the guesthouse.
We dumped our luggage there as it was too early to check in.
and so, we proceeded to our first destination: Heian Jingu, which was around 5 minutes on foot from our guesthouse.
But on our way, we past by what i believed to be
Philosopher's Path.
Lined with rows and rows of blooming cherry blossoms, the sight was truly an amazing and unforgettable one
It's very romantic and peaceful taking a stroll along Philosopher's Path, i plucked a sakura out and the petals are so soft!!(*i have more pics to upload for this)
At the entrance of Heian Jingu.
We paid 100yen to pick oracles that coincides with our original birth dates.
Heian-jingu is the shrine belonging to Jidai Matsuri,
a festival with old costumes representing 1100 years of Kyoto's history.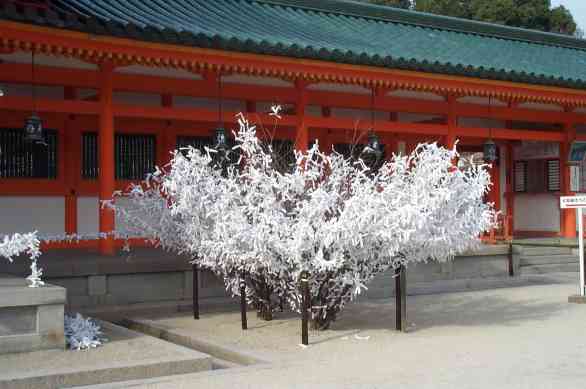 a tree covered with paper wishes an prayers.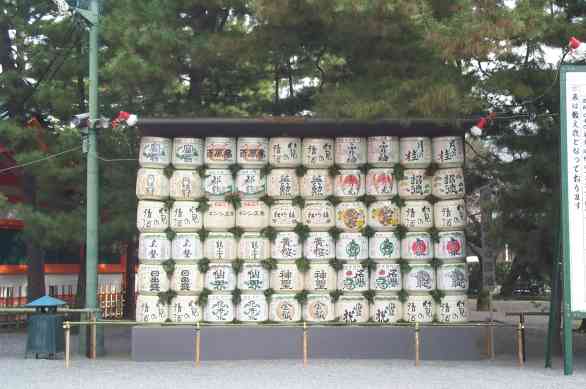 Paper Lanterns decorate the front of the shrine.
i can't smell anything cuz my nose is blocked but i think they have no smell anyway.
we saw a rickshaw puller on our way to our next destination.
Beautiful flowers planted on the streets!!
we saw Philosopher's Path again on our way to the bus stop.
We took the bus 206 (if i remember correctly) and alighted at Kiyomizudera. (there will be announcements at each bus stop and words will flash, so we are usually not worried about missing our destinations.
On our way up to Kiyomizudera Temple.
We saw many cute little houses like this:
Many snacks are sold along the way and their packaging is so pretty!!
we finally reached the entrance of
KIYOMIZUDERA TEMPLE. (Pure Water Temple)
This famous temple received World Cultural Heritage Listing by UNESCO in December 1994. Kiyomizudera (The Clear Water Temple) is the main temple of the Hosso sect of Buddhism and has been destroyed and rebuilt many times in its twelve centuries of history. The Shinto Jishu Shrine is located here also. Kiyomizudera is said to have been constructed from 778 by Enchin, a buddhist priest, in honor of the Kannon Bosatsu (Bodhisattva of Mercy and Compassion). A bodhisattva is one who can achieve enlightenment but decides to remain on earth to assist others in achieving nirvana.
It is now a nominee for the seven wonders of the world 2007.
It is built into a steep hillside and suspended on giant pillars. The amazing thing is that the pillars supported the main hall of the temple without having a single nail screwed and hammered in place.
The weather became cooling and not as cold as it was in the morning, we could take off our outer wear and feel really comfortable.
Kiyomizudera Temple overlooks a big lush greenery, nestled in the hills and blanketed in sakura, it's a must-see in Kyoto.
On the way down from Kiyomizudera Temple, we spotted a Maiko (apprentice Geisha), the one beside her should be her personal assistant and she seemed to be in such a rush, scuttering away at lightning speed!
Luckily my quick fingers captured a clear shot of her, she looks cute!
Downhill, we saw many eateries and simply chose one cuz we were starving!!
imagine, we haven't bathed and had to spend the night uncomfortably sleeping in the night bus, my butt hurts, i'm tired, dirty and starving!!
My lunch!
It consists of Cold Udon and rice with raw fish on top (its ultra yummy!!!)
After lunch, we walked around the vincinity and saw a shop selling big juicy straberries, they were very very sweet and cheap!
Our next destination:
SANJUSANGENDO
The compounds of Sanjusangendo.
I snapped a pic of a tour group who was posing for a pic anyway.
The temple was originally built in 1164 AD at the request of the emperor. This is the outside of the hall which holds the treasures of Sanjusangendo. Enormously long, it has stood for over 700 years. The courtyard outside the hall is quite serene and picturesque.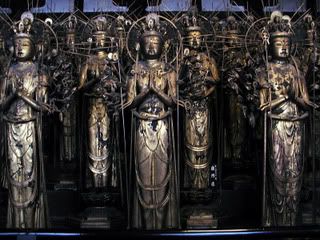 "Sanjusangendo" means a hall with 33 bays. The number 33 is sacred in Buddhism, for it is believed that Buddha saves mankind by disguising himself in 33 different forms. The 33 bays hold 1,001 statues of Kannon-Bosatsu! Each small image is 5 1/2 feet tall, carved out of wood and leafed in gold. In the center, the principal image of Kannon is 11 feet tall. It was an amazing sight, the statues were all different if you looked closely.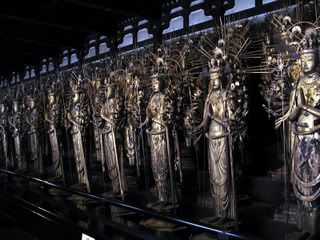 Photography is not allowed in the sacred place that houses the 1001 statues, so the above 2 pictures were not taken by me, they're from another site.
I am fascinated by the dilligence and dedication of the person who made these structures.
Yummy sakura!!
It was finally time for us to go back to our guesthouse to officially check in, shower and take a short nap.
We were dead beat!
Our Deluxe room at Waraku An Guesthouse.
(when the futons are not laid yet)
we all love this guesthouse, it's like experiencing the old and traditional Japan without the need to even step up.
Our favourite place is the little balcony that faces the little garden, this is where we chill out every night.
How our room looks like with futons laid.
The futons (Japanese mattresses) are really soft and comfortable to sleep on.
After showering and a short nap, we are on the bus, exploring Kyoto again.
We alighted at Gion, the famous Geisha district.
Searching for a good place to have dinner.
We finally found a very nice, warm, cozy and traditional (Old Japan style) eatery. Customers all sat on cushions and the whole place was like a nice wooden inn.
They didn't have an English menu so we just simply ordered whatever dishes other customers were having.
Very fresh sashimi (raw fish)
Sashimi and salmon egges on a bed of rice.
The salmon eggs simply burst into rich flavour once it's bitten!
It's so good i've never tasted anything better.
I forgot what this fish is called but many were having it.
This is my favourite dish!
Salmon steamed with miso paste.
Very delicious, i want more!!!
The owners of the restaurant is such a nice lady, and it's such a warm place here and it definitely keeps us away from the cold air outside. (i think it's 5 degrees outside at this time)
After dinner, we were wandering around, taking in the historical and tranquil sights, we roamed into Hanamikoji Street, said to be the best place to meet a Geisha in Kyoto, where many o-chayas reside and the old streets of Japan is retained here.
and we did catch sights of them!!
as usual, they were very mysterious and secretive and walked at very fast speed.
that's why this picture isn't very clear.
another one coming......
You must have the luck to catch a glimpse of them!
Within 3 minutes, we saw around 3 Geishas on this street!
But the next half an hour, we saw none!
The o-chayas (tea houses) were lined neatly side by side in parallel rows.
Some of them had geishas performing inside, we knew this cuz we saw their thick wooden clogs at the doors.
Next, we headed to Yasaka Shrine which was just a few mins walk from where we were and we spotted another Geisha!!!
If you go there earlier, there will be food stands.
Yasaka Shrine and Maruyama Park (just behind the shrine) is opened 24 hours.
Yasaka Shrine is a place where many geishas love to go and pray.
We walked on a reached Maruyama Park in no time.
People were eating and drinking under the sakura trees.
The seats and tables look extremely cute!!
This big weeping willow is definitely a sight to behold.
It is the highlight of Maruyama Park in my opinion.
It's really magnificent and so beautiful!!
We were half frozen, the cold winds keep slapping us in the face that night.
We found a yakitori stall that wasn't closed yet.
I had pig's ear (the soft bone), i don't know the correct term for it and it's crunchy, very nice! (i usually don't take such things)
As it was past midnight and the buses were no more in service, we had no choice but to take a cab back to our guesthouse. (distance is like from Tampines to Bedok, not too far).
That night as we walked back, there was 'smoke' coming out from our mouths whenever we spoke, that was so fun!