Merry Christmas 2006!!!
The party's over but memories will alwayz stay.
As much as i would like to invite more people, the space is really limited but despite the difficulties, we decided to carry on with the party.
would like to thank you all who came with all the great food (the food were really really good!!! i still kept the beehoon and pizza*) and drinks! (my fridge is overloaded with soft drinks and green tea, my cupboard has some too!)
If you're near my place and need a drink, please drop by and finish them up for me!
here are the pics:
THE HOME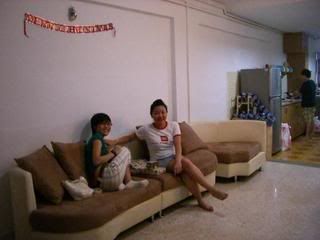 we shifted the couch and made a long aisle in the middle.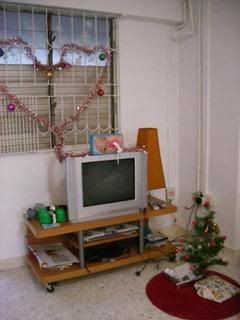 That's my heart filled with love for all of you*
forgive me cuz i don't have a flair for art and design,
i can't draw an apple without it looking like an orange and if i drew a dog, you'll think it's a pig.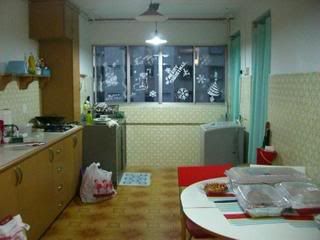 kitchen area.
my frosty room door :)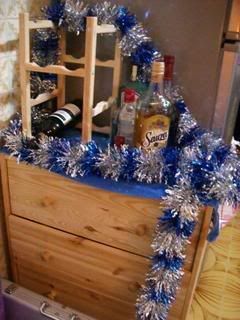 Itsy-bitsy, teeny-weeny bar.
hey, we had more drinks than this, some were chilling in the fridge.
THE FOOD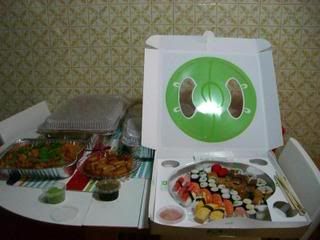 Sushi!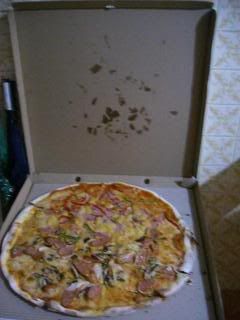 Elvy's HUUUUUUUGGGGEEEE pizza from Sebastian's.
i was amazed by it in 2005 and now, i'm still awed by it's size!
crust is thin, just what i like!!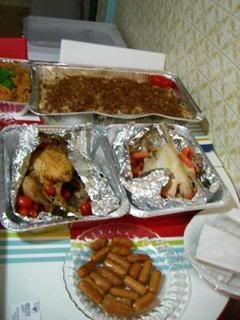 Bing's roasted chicken with cherry tomatoes and steamed chicken with baby carrots!
cheese sausages too.
the large tray at the back contains Sueann's beehoon.
it's totally yummy, i really like it and kept half the tray.
i had it for breakfast the next day!
i'm going to steal your recipe!
next to it on the left is Steven's sweet and sour chicken.
Very generous serving!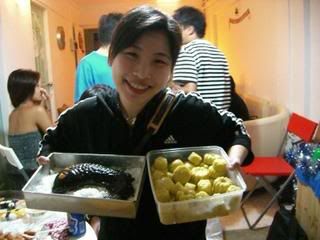 The Lin Family are really good in the kitchen :)
Wendy's durian puddings are fantastic!
not forgetting Jo & May's potato salad.
please tell me the brand of mayo you used!
ah lun's signature dish (her maid's signature dish lah): Curry Chicken which everyone loves.
the rest brought drinks *in abundance*.
THE PEOPLE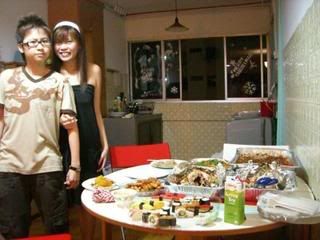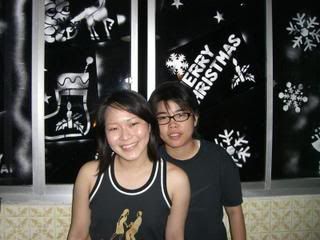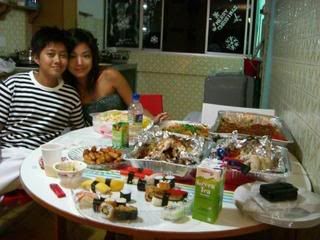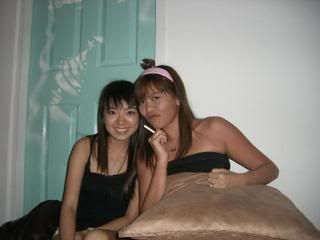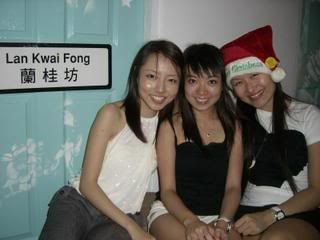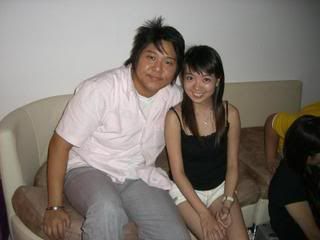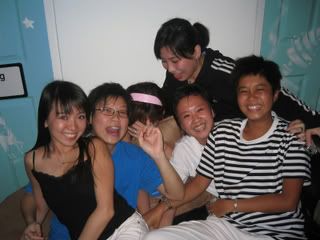 The SHOCK-ing appearance!!
in fact, this was the 2nd shocking appearance.
the 1st was 2 uniformed policeman who asked us to lower our volume cuz the neighbours complained.
but they were so so friendly i couldn't resist inviting them in for a drink!
now, this: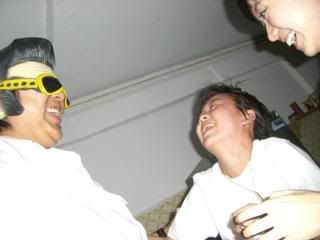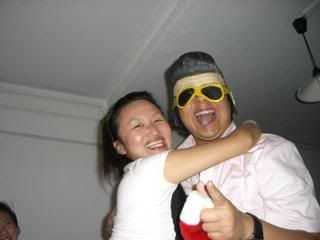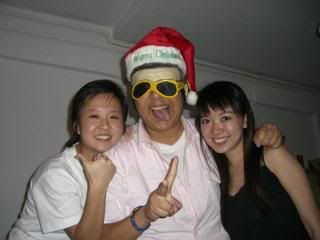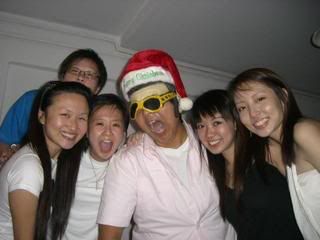 haha, you made the house rock with laughter.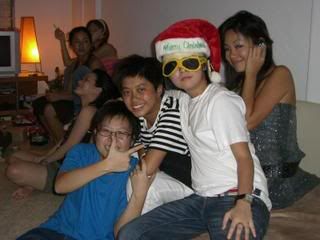 i got a photo frame for gift exchange, till now, i don't know who is it from.
Bing received Pearly's lighter, Fiona received Jo's hp pouch, Lun got my cutie mouse pad and wrist rest, Syl got Lun's towel, Wendy had Sueann's 'cloth' and chocolates, Karyn got Bing's chocolates, Pearly had Eve's matching cups.
the rest i'm not sure.
but i really enjoy gift exchange, i think it's the highlight of the party.
can we do it again for CNY?????
what i received from the party: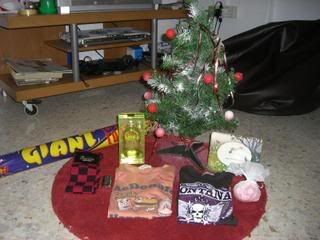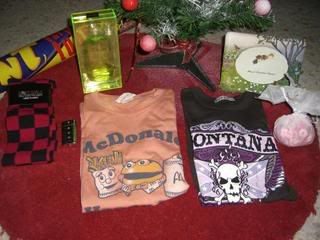 see the small white packet on the right?
i thought it's FRUIT LOOPS (the cereal) and i happily told Pearly that too cuz she thought was mothballs!
i happily put it into the fridge, looking forward to having it for breakfast soon until Jo said it's a necklace!!
Poor Pearly bit it!!!
*lol*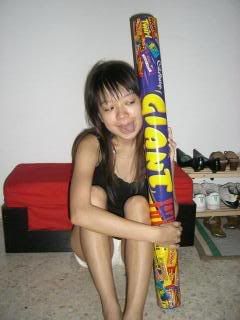 My gigantic tube of chocolates air flown from Adelaide!
Thank you leg :D
MY LOVES