i love ramen!
especially hot and spicy ones.
and so, i finally had the chance to try out Beppu's ramen.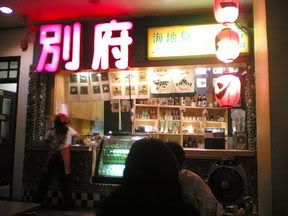 our orders:
Spicy Char Siew Ramen
, level of spiciness: 2 chillies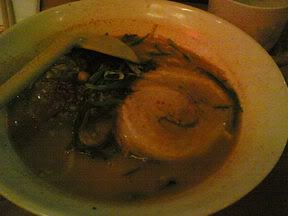 i almost died in this!
but bing said it just tasted normal.
i can't imagine how the 4 chillies would taste.
Spicy Cold Ramen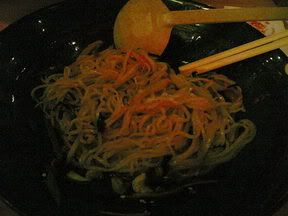 this is absolutely heavenly!
i was skeptical at first but was forced to try it.
in the end, i liked it even more than the char siew ramen which was the purpose of my trip.
we even threw in a whole cup of ice to freeze the noodles!
this is even better than the one i had at HK's ajisen. (i miss that place so very much)
Wasabi Tempura
seems pretty alright.
but i was expecting something better.
i heard this was brain numbing, but it did nothing like that!
and one more great thing about Beppu was their Chawanmushi, one of the nicest i've ever had.
i like the lighting of this place.
i left Beppu with a terrible sore throat.
anyway, i changed my tagboard to.. 'another brand?'
well, the previous 'brand' i was using alwayz disappears and appears again like some magical act.
i'm sick of it,
well i like this new one with so many cute emoticons to match.
ON shipped my orders to VPost, and this is fast!
i can't wait to touch my clutches, cami and capri, and i pray that those capris would fit me.
have been lemming for a pair of ivory ones for ages when i finally see something which my small butt has a possiblity of fitting into, something from ON kids department.
hehe.
i guess i'll never grow, and my small butt will remain small as it is.