the past 2 weeks has been MARTELL WEEK! :P
drink, drunk, down..
we had so much fun singing, shouting, playing, laughing, crying.
we successfully turned the whole pub into a zoo.
meet the craziest and loudest alcoholics in Singapore:
I secretly stole this from jac's blog cuz i'm lazy to upload them myself :P
and i have to add, i'm proud of her beautiful and artistic creation, that's why it's here in my blog, must feel honoured ok my dear babarian!
then...
2 days later...
we met up again, for more drinks!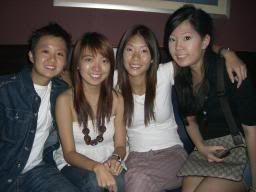 2 new comers!

and guess what, the night wasn't over.
we hopped over to Party World after that where we could sing in our own private zones.
and 2 nights ago....
how to resist drinking with such crazy people you tell me?
3 martells got everyone blasting at the loudest volumes.
i want more!!!