Sakura Thai Restaurant
@Far East Plaza Level 3
i've been here before a long time ago, it's alwayz full house on weekends and there's alwayz a queue outside.
i guess it's rather popular, so we went there again on Saturday.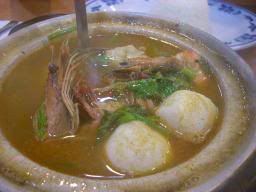 Tom Yum Seafood Soup
too sourish and the prawns didn't look fresh, i didn't eat it.
5/10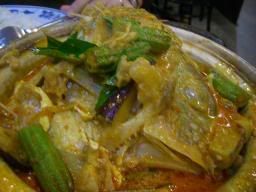 Fish Head Curry
this was on promotion and only costs $8.
the curry gravy was OK only, very normal and nothing fantastic.
the fish wasn't fresh.
the only thing i like about this is the ladies fingers and brinjals.
4/10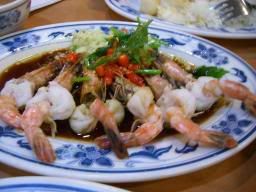 Garlic Prawns
nice and tasty!
they came in 6 pieces of prawns.
6/10
we also ordered sambal kangkong, which was nice!
i doubt i'll be here very often though.
Mario Kitchen
Authentic Korean Cuisine @ Liang Seah Street
Side dishes came free.
they consists of the usual kim chi, ikan billis, brinjal.
BBQ-ed beef.
Fantastic!
it's really tender and cooked to near perfection.
the more i ate this, the more i yearned for it.
8/10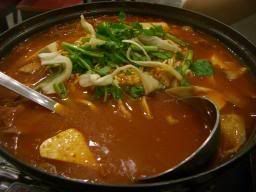 Steamboat in Kim Chi soup base.
i found this not very much to my liking but Bing loved it.
it consists of kim chi, cabbages, mushrooms, sausages.
6/10
the bill for these came up to $50+.
the next thing i wanna try here is their Bibimbap.
FYI, they're closed on Sundays.
The Soup Restaurant
After wanting to try this for so long, i finally did.
and i'm rather disappointed with the food.
i expected really nice soup but mine wasn't as nice.
maybe i ordered the wrong soup.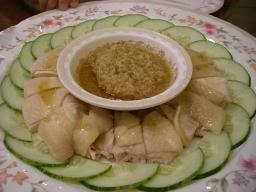 Sam Sui Chicken.
this is the specialty of the restaurant.
eat with with lots of garlic.
8/10
the kangkong was really oily and i didn't enjoy it much either.