Happie Belated Valentines Day to everyone out there!
i had a great time and i certainly hope the same goes to all of you. :D
well, it actually doesn't matter that much does it?
it's just another day to many of us.
as long as we're happy, everyday can also be Valentines Day ya?
i got a pleasant surprise from Bing this Valentines: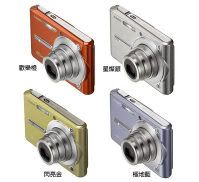 Casio Exilim S600
it's such a pretty baby!
and guess what colour i got?
the red one of course!
we had dinner at Nanbantei, this japanese yakitori restaurant in town and went singing after that.
great deals were everywhere, we had free red wine cuz it was V Day.
pictures to be posted soon, i'm stil figuring out and exploring all the functions in my new digicam!