Have been eating out alot and discovering lots of food lately.
Some were bad and i shall not recommend them.
Below are those which i really like and worth visiting a few more times.
These are some fascinating discoveries i made lately:
GOOOOOOOOOOD FOOOOOOOOOOD!!!
~*~*~*~
Turtle Soup at Geylang
~*~*~*~
Sorry i forgot to take down the name of this restaurant.
It's the stretch of Geylang near Kallang MRT.
Near this restaurant are a few other steamboat restaurants.
This one has won some awards.
My reviews:
Soup is really tasty. Chilli is fantastic!
Meat is lean and tender and tastes way better than chicken.
My first time drinking turtle soup and i'm loving it!
Cost:
$8 for a small bowl.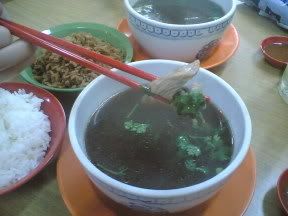 ~*~*~*~
Cod Fish Village (老百姓 鳕鱼村)
*~*~*~*~
Blk 83 Toa Payoh Lor 4
Open daily from 11am-10pm
Coffee shop with only one stall.
My Reviews:
I felt like i'm in heaven after putting a piece of cod fish in mouth.
i love love love love love love this very very much!!!!
i fell head over heels in love with codfish ever since my visit to this place.
The quality of cod fish is so so good and fresh.
This stall specialises in cod fish.
Fried in all kinds of ways.
Pan fried, steamed, cheese cod fish, garlic cod fish, Curry Cod fish head curry, you name it, they'll probably have it.
They have other dishes too, like seafood, chicken, pork and such.
We had the Curry cod fish head curry.
It costs $15 per pot.
Cheap and service is not bad.
Do try their cereal prawns too!
it's sedap, and nicer than the ones i had in JB.
Very highly recommended!!!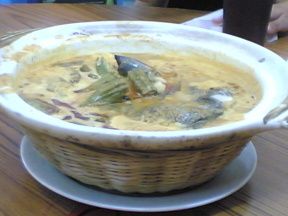 *~*~*~*~
Assam Laksa
*~*~*~*~
Katrina, Tampines Mall Basement 1
My Reviews:
A mix between Penang Laksa and our local Laksa. It is cooked in a style similar to typical Peranakan cuisines with generous servings of pineapples and onions together with their rich assam base.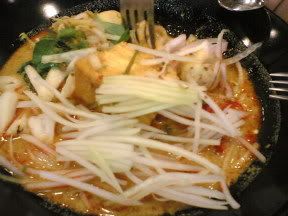 *~*~*~*~
Rajah Inn Steamboat
*~*~*~*~
Tiong Bahru Plaza
My Reviews:
Dear Jac recommended me here. She says this is similar to the popular steamboat at Parkway Parade.
but my opinion is, this tastes better than the one at Parkway Parade.
and it's cheaper too.
Do try their tom yum, you'll crave for more after a spoonful.
I ordered the beef set at $6.80 per set.
The food is just ok only.
i think the main attraction has to be their tomyum soup.