XI MEN DING~~~~my home in Taiwan
i loved this place.
my hotel is right smack in the middle of Xi Men Ding, the place where teenagers and the youngsters hang out after school and on weekends.
it has everything i ever need.
from the most delicious food to being the fantastic shopping haven i ever wished for.
it reminds me very very much of HongKong's Mongkok.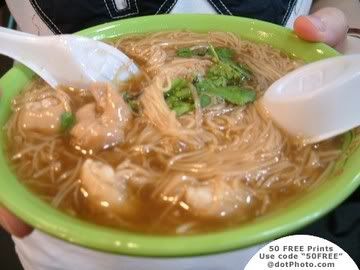 the infamous
Ah Zong Mian Xian
is found in Xi Men Ding.
lots of people from the young to the old are seen standing outside this stall with a bowl of delicious mian xian in their hands.
The Fish House (Swing Restaurant)
this restaurant is really cute.
the seats are made of swings.
those swings made of wooden planks attached to the roof using really thick ropes.
i wanted to take more pictures of this place but the staff forbid us to take photos and they told us that they would be fined NT1000 if their boss finds out that customers took pictures.
nevertheless, we used my handphone and secretly took some quick pics of this place.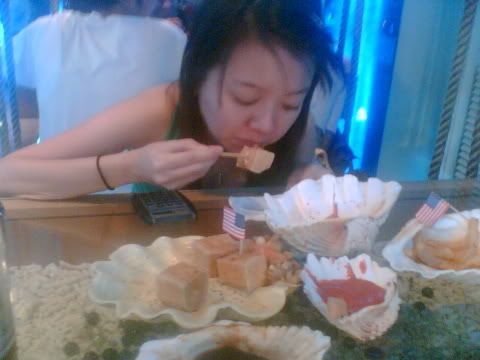 can't really see much of the swings though.
but this whole restaurant has an ocean theme.
even the food is served on seashells.
Japanese Food
we found this really cool and cozy Japanese restaurant.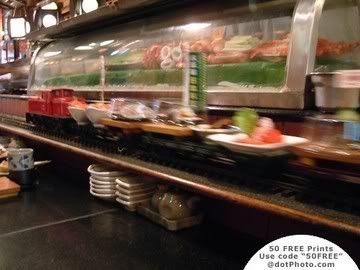 Bing says it looks like a typical restaurant in Japan!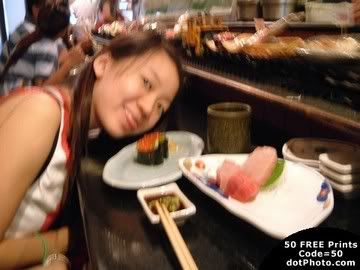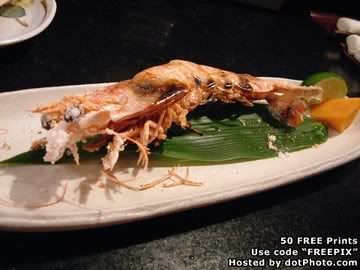 i forgot if i mentioned before but the Taiwanese really love serving the sashimi in huge and thick chunks!!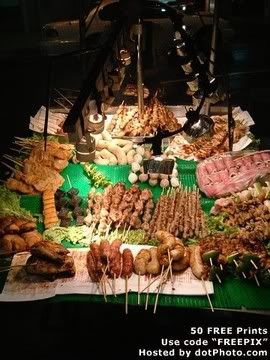 you can find all these practically
everywhere
in Taipei.
we have all these for supper every night without fail!
my favourite is the chicken with veggie!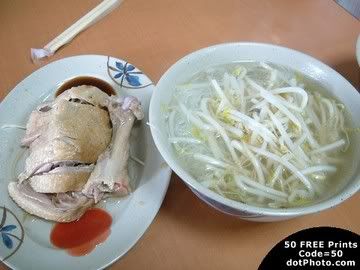 We accidentally stumbled upon this mini cafeteria which sells
Ya Rou Bian
which means Duck Noodles.
it's superb.
absolutely superb, i really mean it.
even the cab drivers mentioned to us about this.
this has to be my luckiest find in Xi Men Ding.
those going Taiwan, you can find this near Rainbow Hotel.
Walk straight when you exit from the hotel lobby and turn right along the road junction.
SAN XIONG DI
this is another famous shop selling desserts.
we had the white fungus with lian ou.
the lian ou is simply the best i've ever tasted.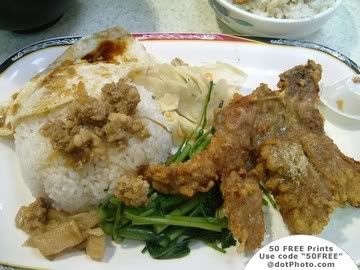 nothing fantastic about the porridge.
the second dish is actually Pork Ribs Rice. (pai ku fan)
nice!!
this is a very very famous and popular stall which sells duck's tongue.
many celebrities including Andy Lau came here before.
true enough, it's really nice compared to those street vendors selling ducks tongue.
Price: 100g for approximately NT100.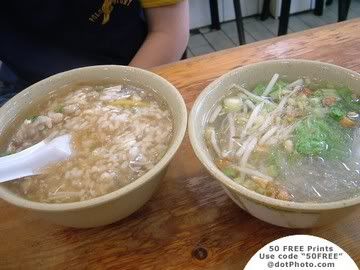 all these food stalls open early in the morning and closes late at night.
Swing Restaurant 2
Soon, we realised that Xi Men Ding has these little swing restaurants scattered around.
this is another swing restaurant which has a totally different theme.
this looks exactly like a toyland.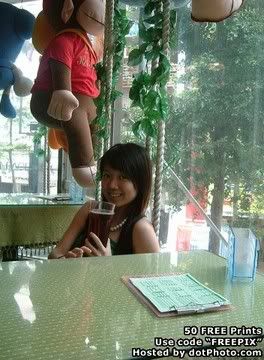 it's absolutely relaxing coming here to unwind over a cup of red tea.
sipping slowly on a wooden swing while watching the busy crowd buzz by you by the windows.
if only Singapore has a swing restaurant, i promise to be a loyal regular customer!
Haircut in Taipei
we both had our hair cut at Xi Men Ding.
done on different days at the same hair salons but at different parts of Xi Men Ding.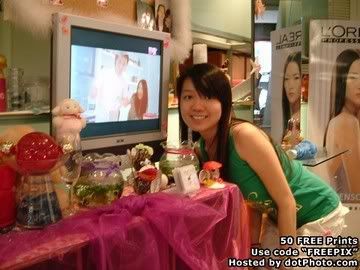 while waiting for Bing, the cutesy assistant kept serving me red milk tea!
and even gave me the remote control for the TV to keep me entertained. :)
she used cutesy and colourful hairclips on Bing's hair. *lol*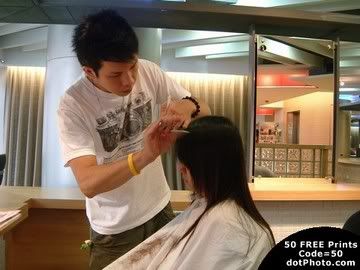 my turn.
Sipping on yummy red milk tea!!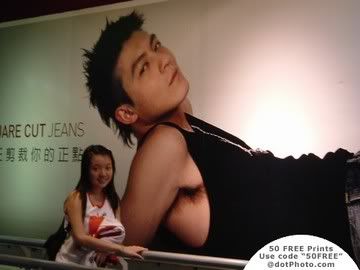 KTV
Xi Men Ding has 3 major KTVs.
Namely Cashbox (PartyWorld), Big Echo (Hello Kitty), Holiday.
According to the locals, Cashbox is the most popular one and that's where we decided to head for in the end.
The lobby looks more grand than my hotel!!!
and i thought it was a hotel at first too.
our room was on the 3rd level and we had to take the lift up there.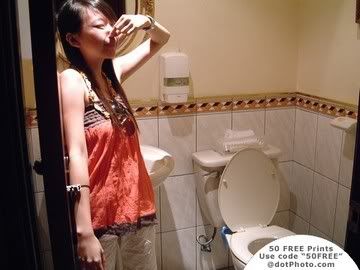 each room has a private wash room attached to it too!
the sound system is terrific!
i really love this KTV.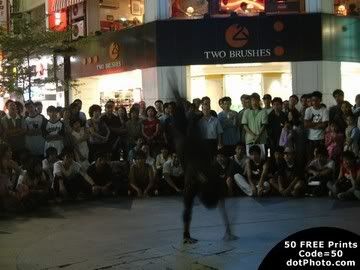 On weekends, youngsters will perform hip hop dance in the middle of Xi Men Ding.
Many people will crowd around to watch and cheer for those who courageously step out to perform!
We finally see the crowded Xi Men Ding.
it's livelier on weekends.
but after 12am, Xi Men Ding will transform into a Ghost Town where you hardly find a single soul around.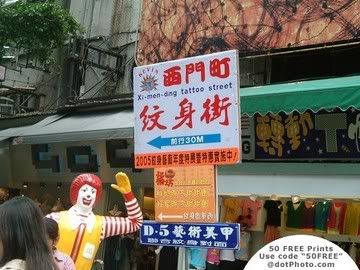 Tattoo street!
After my 6 days of crazy shopping and eating.
it's time to pack and leave!
Back at Chiang Kai Shek International Airport.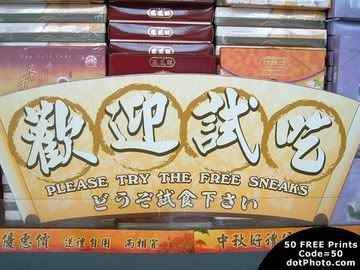 check out their spelling!!!
it's supposed to be "Snacks" instead of Sneaks.
our last meal in Taiwan.
Burger King's Chicken Drumstick burger.
it's very nice and spicy!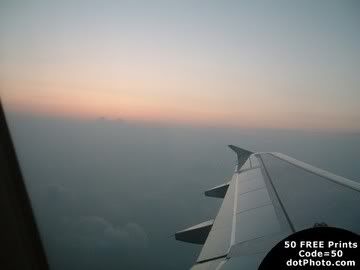 bye Taiwan, i'll miss you!
will definitely come back again someday for your food :)
and finally..........
my mega hauls from Taiwan: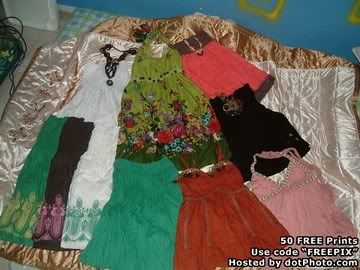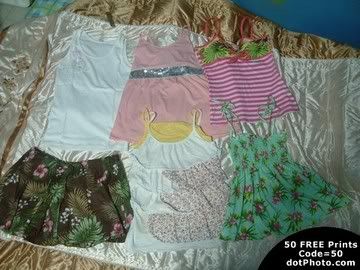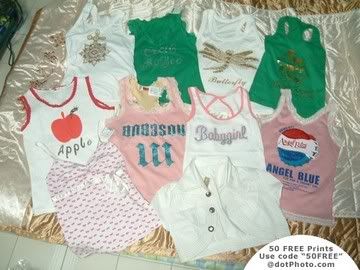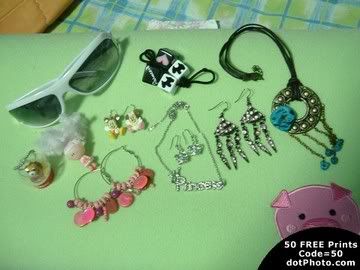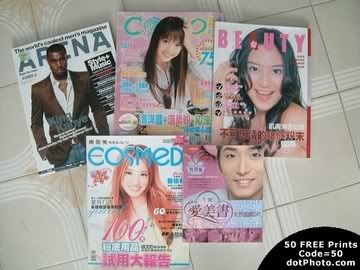 i'm a very happy girl now.
the only thing i didn't buy are shoes!
their sizes didn't fit me and i don't really like the designs they have this season.