My Taiwan Travaganza 2005 (Part 2)
On this wet but really cooling typhoon day, we began our journey by going to Taipei City Hall.
where all the major departmental stores and buildings were found.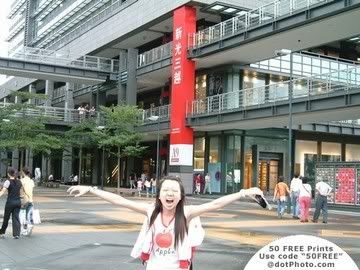 Once we stepped out from the MRT station, we happily followed the crowd and landed right in front of
Shin-Kong Mitsukoshi Dept Store (2nd Branch)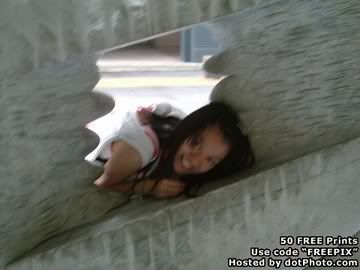 me, trying to squeeze into the hollow part of a stone sculpture.
this area reminds me slightly of Hongkong's Causeway Bay.
the building on the left is
Warner Village Cinema Center
and on the right, lies
Shin-Kong Mitsukoshi
again, this time, the 1st branch.
further down, we arrived at
New York New York
.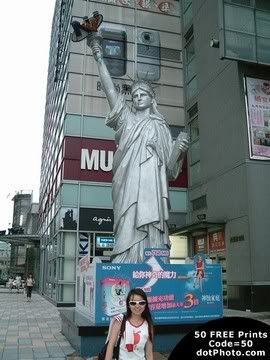 i love this statue!
as we walked on, a really irresistable sugary sweet smell filled the air.
we can't help but walked towards the direction the heavenly small was leading to.
and this was what we found:
i heard of this on TV and from friends!!
luckily for us, there was a queue but it wasn't that long.
we decided to line up for it.
We got interviewed by some news reporters while lining up too!
they were asking us why we were here on a typhoon day.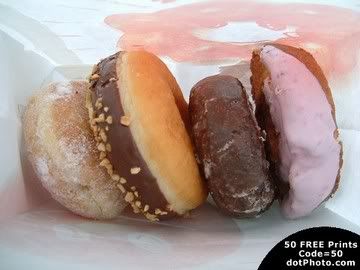 Each donut comes with a label indicating its level of sweetness.
Our orders from left to right:
Angel Cream, Peanuts Choco Ring, Chocolate, Strawberry Fashioned.
All donuts are priced between NT25-35.
i like Strawberry Fashioned the best.
the kind of sweetness perfect for me!
we're getting nearer and nearer to Taipei's significant landmark:
Taipei 101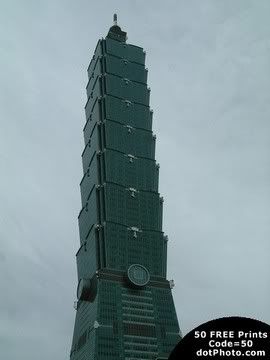 at the entrance of 101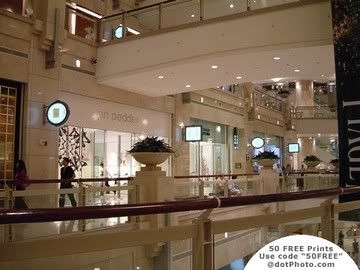 it looks like takashimaya.
but nicer.
Standing at 1671 feet,Taipei 101 now holds the title of the world's tallest building measured to the roof.
This building will have the world's fastest elevators, traveling upwards at 1008 meters/minute and downwards at 610 m/min.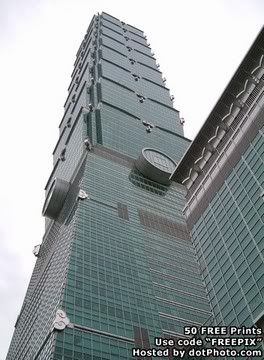 taken right at the foot of 101.
\
on our way to the next destination, Sun Yat Sen Memorial Hall.
we happened to pass by the
Taipei City Government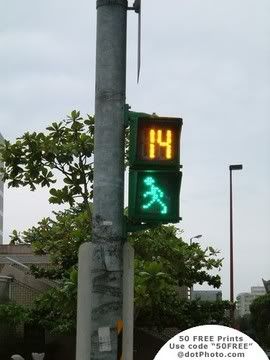 i like the way the animation of the green man.
very cute!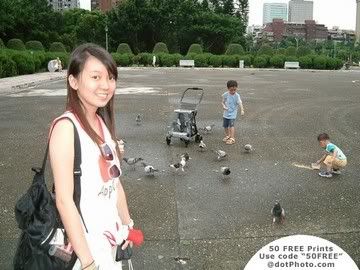 We reached the open field just across the Memorial Hall.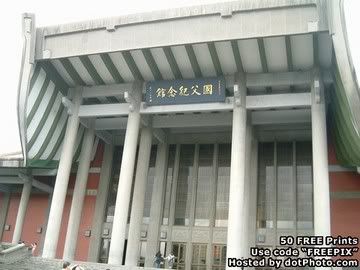 crooked picture taken by a wobly hand.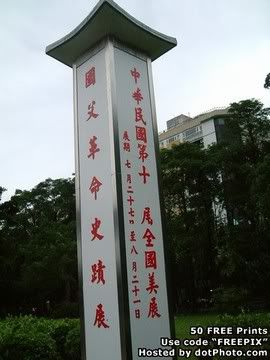 will continue with this tomorrow.
i'm dead beat.
*yawnz*
___________________________________________________________________________________
right, i'm back!
next up on our itinery:
Rao He Night Market
were supposed to be here the day before but it was too dangerous due to the oncoming typhoon.
so here we are!
Rao He is quite big but of course, a pea compared to Shih Lin.
nevertheless, we saw rows of clothing shops, but nothing trendy that i really like.
lots and lots of food stalls too!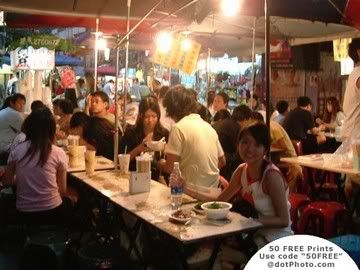 having dinner at a road side stall.
i love eating on road side stalls.
it looks very vintage and something that it extinct in Singapore.
oh, i remember the one at Chinatown though.
but that one doesn't give me the historic feel like this one does.
our orders.
Beef noodles, veggies and the other one i forgot.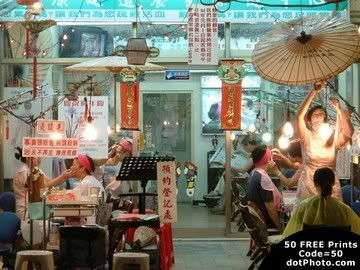 people doing face threading by the roads.
we found this
"Tou Fu House"
and decided to give it a try.
it looks so cute with everyone sitting on little stools.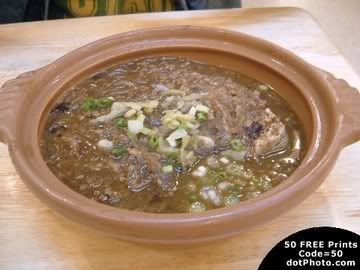 Smelly beancurd!!!
this really really really stinks to the max!
i love smelly beancurd but this is too much for me to bear.
it's ultra smelly!
and i even taste the smell in my mouth.
i feel that i'm swallowing my own vomit!!
Taiwan's smelly beancurd is so different from HongKong's.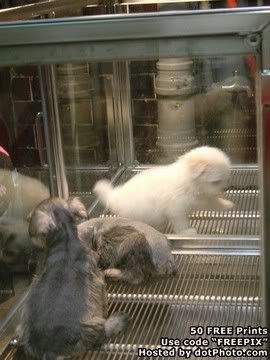 pet shops selling cute puppies!
Bing bought shoes here.
lots of sport brands like Nike, Adidas, Puma.
all cheaper than the ones you can find in Singapore.
especially Nike, which is very much cheaper.
There was this cute brand with a crown as a logo, called Da Da Supreme.
not sure if i've seen this in Singapore though.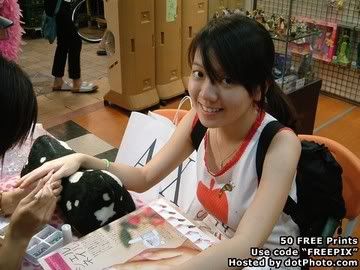 i did my nails here at Raohe too!
for only NT350 and i had rhinestones (if that's what you call it) on every single nail!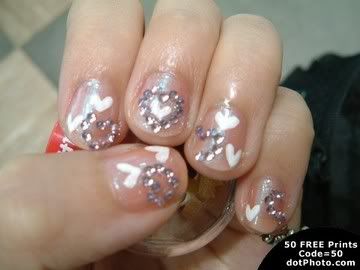 Tada!
Girls in Taiwan love nail art!
almost every girl has her nails beautifully coloured and drawn with cutesy icons.
we got tired from walking and walking.
and we decided to go for foot reflexology at this place:
this is quite famous in Taiwan.
you can find this at Shih Lin and Xi Men Ding.
foot spa.
we had to dip our feet in really hot medicinal water to rid of all the bacteria and germs.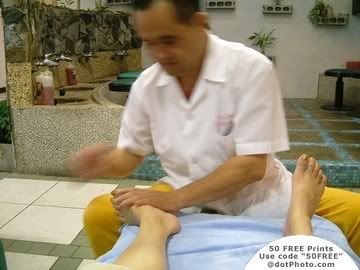 the Shi Fu massaging my feet.
it hurts!
all these for NT200.
we even had a back massage after that.
but it's really good.
cuz my legs felt so good after that i feel that i could walk another 10 miles!
all the aches i felt before the reflexogogy were gone.