My Taiwan Travaganza 2005

30th August~4th September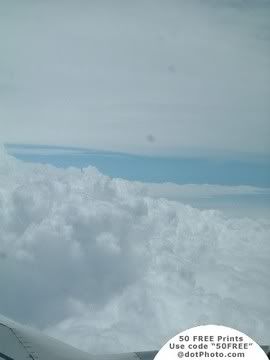 up, up and away
our flight with jetstar was quite ok.
only for the meals, which we had to pay for ourselves, which, is still ok.
just that paying $8 for fried rice which doesn't taste nice is
not too ok.
*pouts*
i heard great reviews for their mee goreng.
so i decided to give the food on jetstar another chance.
we went ahead with our order.
just to be greeted with really normal noodles which my grandma can cook way better.
not worth it at all.
luckily for us, we got the seats at the emergency exit which left us plenty of leg room compared to the other seats which looks really really cramped.
We reached Taiwan finally!
the words on the builing read,
"Chiang Kai Shek International Airport Terminal 1"
Duration of flight: 4 hours 45 minutes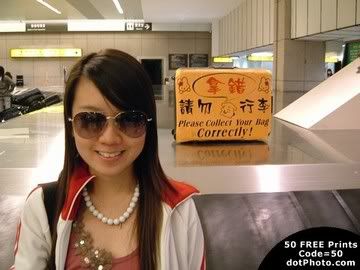 collecting our baggage.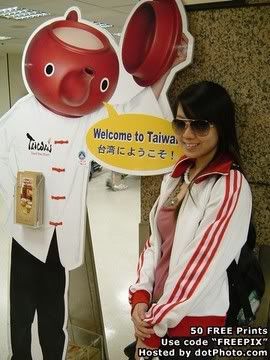 i'm here!!!
isn't this mascot with a teapot head cute?
the various bus counters where to purchase our tickets to our hotel/City area.
Directions: turn right upon checking out from the airport
we chose
Freego Bus Service
cuz it's the only one that brings us straight to the doorstep of our hotel.
Fare: NT135 per pax
Duration: approximately 1 hour
Stayed at
Rainbow Hotel
it's called "Chang2 Hong2 Fan4 Dian4" in mandarin.
We are staying in the Deluxe Room for Two.
Price per night: NT1780
(promotion price)
No deposit is needed upon check in.
Those interested in staying in Rainbow Hotel, you can call and book your rooms.
The number to call is provided in the link to Rainbow above.
This is how our bathroom looks like.
In Taiwan, hotels are known as Fan4 Dian4 and not "Jiu3 Dian4" as what we call them in Singapore.
To them, "jiu3 dian4" means those sleazy love hotels you find at Geylang.
We unpacked and hurriedly left our hotel to our very first destination which we could reached by the MRT train known as the "jie2 yun4" in Taiwan.
Directions: Turn right from Rainbow hotel and walk all the way straight to the MRT station.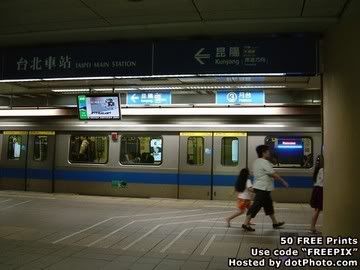 it looks very similar to our trains here.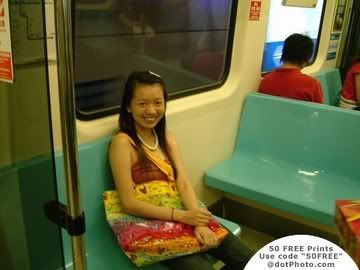 the seats are identical too.
just that they're arranged in different directions.
Escalators are imprinted with foot prints to show that users are to stand on the right.
Everyone follows this rule here.
Even when the train arrives, everyone lines up neatly in rows at the sides of the entrance and enters the train one by one, not like us here, rushing in once the doors open.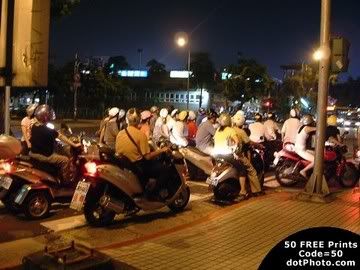 we're surprised at the number of people who rides on scooters here.
from the young to the old.
we even see some scooters with more than 2 pillion riders.
2 adults, 2 kids.
one whole family travelling around in a scooter.
looks cute but seems pretty dangerous to me.
Shih Lin Night Market
Our very first destination.
Directions: Take the MRT to "Jian4 Tan2" station.
Follow the crowd and you'll get to Shih Lin Night Market.
Duration: 20 minutes from Xi Men Ding.
Shih Lin Night Market is the biggest night market in Taiwan.
It is divided into 2 main areas: The food square and the shopping/fashion area.
It also has a pet section, a games section and a small area for handphones and nail care.
This is my favourite place in Taipei.
Here, i can eat like a queen and shop like there's no tomorrow!
in all, we visited Shih Lin 3 times!!
in the middle of Shih Lin Food Square
Yummy food at Shih Lin:
"Pao4 Pao4 Bing1" (shaved ice)
i love love love love love love this to bits!!
it tastes just like sorbet.
not only does it melt instantly in your mouth, it melts less than 5 minutes while we were holding it.
the Mango flavour, it's absolutely marvellous!
The Strawberry flavour is sweet with a tinge of sourness.
If you like sour flavours, go for passion fruit and Lovers Fruit (Qing2 Ren2 Guo3)
i tried this Pao Pao Bing at other places as well but this stall from Shih Lin beats the rest hands down.
it's just at the entrance of the food square facing the road, towards the right.
Price: Around NT40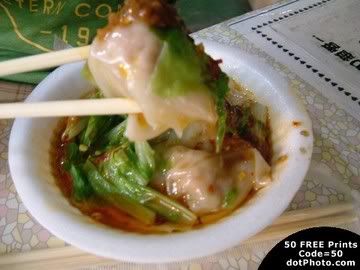 i can't remember the name for this but it looks and tastes like Wanton but better!
Bing says it's "Chao3 Shou3"
this stall is just located next to the Pao Pao Bing stall.
Price: Around NT40
Smelly Beancurd
Price NT35
i prefer HK's one.
Really gigantic Taiwan Sausages!
The very famous
Hao2 Da4 Da4 Ji1 Pai2
(chicken cutlet)
it's really gigantic!
it's really tasty and tastes quite similar to the ones we can find at Singapore's Shih Lin Taiwan Snacks stalls.
but this is nicer of course, and much sooooooo much bigger!!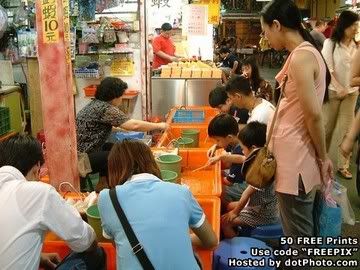 People fishing for prawns, after that, they get to BBQ the prawns at the mini BBQ pits provided at the stalls.
Squid soup.
Recommended if you're a squid lover.
If you're not, you won't turn into one even after trying this.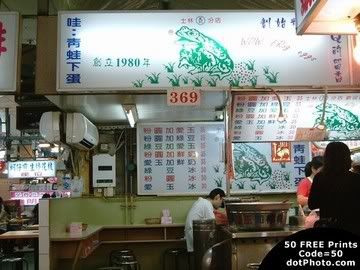 I tried the normal plain one with Sago (frog eggs)
it's not sago but looks like sago.
it's nicer than sago.
but the drink itself is pretty tasteless but great as a thirst quencher.
Tian Bu La.
We didn't really enjoy this.
Hu2 Jiao1 Bing2 (Pepper Bun)
if you watched the variety show hosted by Sharon Au featuring Taiwan a few weeks back, you'll remember her eating this.
i vividly remember the stunned expression on her face when she tasted this.
she made it seem genuinely yummy.
so, i tried this.
true enough, it's reeeeeeeeeeeeally nice!!
the crust is crispy.
inside, you can find chunks of meat with a slight tinge of pepper.
A MUST TRY!!
it's not found at Shih Lin Food Square, it can be found at one of the lanes in Shih Lin Market itself.
Having Sashimi at Shih Lin Food Square.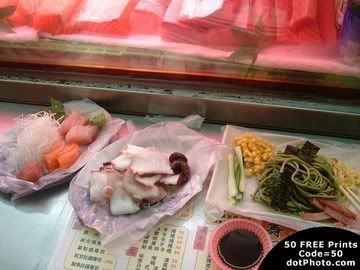 They have this habit of slicing up the pieces of sashimi into really thick and fat pieces which makes it hard to bite.
Quality wise, it's fresh but isn't very sweet.
Can be compared to the ones served at Sakae in fact.
But of course, it's price is way cheaper than what you can get at Sakae.
The cold noodles are quite yummy,
they come with sweet corn, bacon and some veggies too.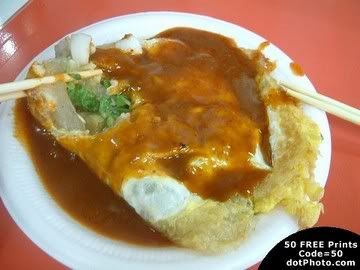 Oyster Omelette.
THis is anothe MUST TRY!!
i'm not an egg lover but i absolutely adored this.
it's one of the best i've ever tried.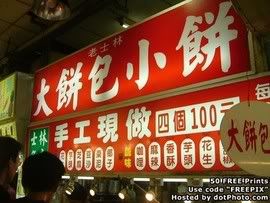 i really wondered what this was when i saw it.
it comes in a variety of flavours to choose from.
i chose the Peanuts one.
the seller will take a piece of the crispy thing which looks like curry puffs (picture above) and crush it.
then she will use something which looks very much like popiah skin to wrap around the smashed crust.
it truly lives up to it's name," DA4 BING3 BAO1 XIAO3 BING3".
not fantastic though.
another stretch of food stalls at Shih Lin.
CONG1 ZHUA1 BING3.
we didn't try this even though we saw this all over Taipei.
it looks like roti prata.
Shopping and others at Shih Lin: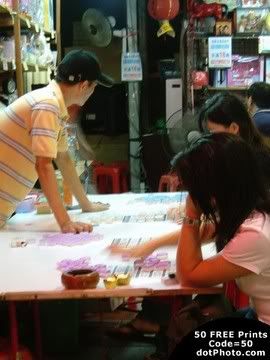 People playing mahjong.
The Taiwanese are such mahjong fanatics too!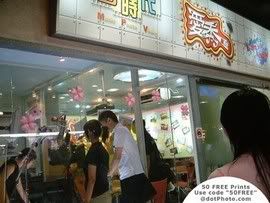 This is actually a recording studio where people record their albums exclusively.
this girl is really brave.
she's in the studio alone and many people are outside watching her.
once she starts singing, all of us could listen to her over the speakers hanging outside the studio.
Bravo to her!
Shopping in Shih Lin.
i accidentally stumbled upon her shop and recognised it thru the photos all over the shops: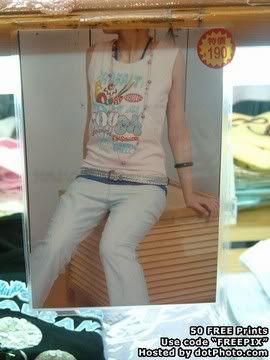 We got tired and decided to head back to the hotel by cab.
it costs around NT180 to Rainbow hotel inclusive of midnight charges.
Every night before we head back to the hotel,
we never fail to visit their convenient stores for drinks and snacks:
They have really good tea leaves eggs at their convenience stores.
They smell heavenly!
But if you just purchase one or two items, the staff will not provide a plastic bag for you to store your things.
They will only ask if you need a bag if you purchased many items.
Bing's nightly dosage of beer.
The next morning, there was a slight drizzle.
but that did not deter us from exploring the place.
Headed to Zhong Xiao Fu Xing
found some food here to satisfy our empty stomachs:
my favourite Lu3 Rou4 Fan4 (rice with pork paste)
it's very very nice, my ultimate favourite dish in Taiwan.
it's very common and can be found almost anywhere.
even if it's not on the menu, just ask for it and most stalls should have this.
the slight drizzle became heavier and was accompanied by gushes of strong wind.
we wondered if it was the typhoon as a major typhoon was expected to hit this day, 31st of August, which also happened to be my birthday.
but i thought it was too light to be the typhoon.
the strong wind.
we decided to go to the underground Metro Mall.
it has nothing much and many shops were closed.
it links to the next MRT station:
we then took a train to
Lung Shan Temple
:
Also known as 'Dragon Mountain' due to the large collection of fearsome creatures on its roof. This temple is easily the oldest and most famous of Taipei's temples. Built to honor the deities Kuan Yin and Ma Tsu, the grounds are covered in incredible wood carvings of the two. Fine stone sculpture and bronze work also add to the attraction of the temple.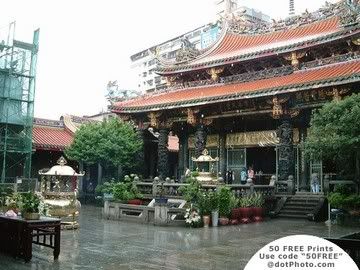 The rain came and went and came again.
Still, we carried on shopping.
We headed to
Wu Fen Pu
the place where all the wholesalers sells clothes at really cheap prices.
i was really disappointed cuz i didn't find many things i like.
cropped cardigans and double layered tops were all over the place.
i had them all from my HongKong trip last year.
was expecting to find more boho stuffs but there were really very few.
this place is really really big nonetheless.
and it's only cheap if you purchase in bulks.
otherwise, the prices are almost the same as those at Shih Lin.
We wanted to go to Raohe Night Market and were asking for directions from a middle aged couple.
They were very warm and friendly,
in fact, 80% of the Taiwanese people are really warm and nice.
very polite too.
the middle aged couple told us the directions to Rao He but also advised us not to go as the typhoon is approaching and it's gonna be a really strong one.
all shops were advised to close by 4pm and the next day was declared a public holiday for all as it was really dangerous to be out.
at that time, the wind was already getting bigger together with heavy rain.
after hearing the news, we got abit scared.
still, we decided to head to Rao He.
but on our way there, the weather became really cold and the sky was a dark purplish blue in colour.
it was barely 6pm in the evening.
we could hardly walk with the umbrella as it was quite hard to control due to the wind.
we had no choice but to head back to Xi Men Ding.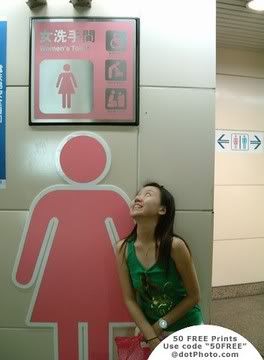 us, playing a fool.
we had steamboat, perfect for a typhoon day.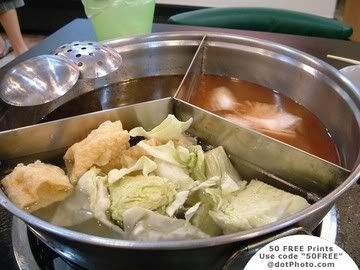 3 soups in 1:
Ma La
Kim Chi
Chicken
my favourite: Ma La.
it's different from the ones here.
at least this doesn't give me a sore throat after consumption.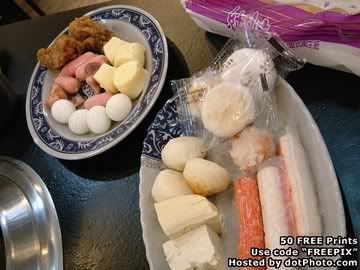 Price: NT275
while walking back to the hotel from the steamboat restaurant,
we took some pictures admidst the typhoon: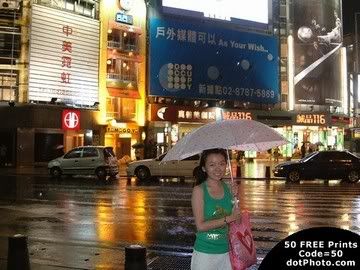 this is the umbrella that broke within 10 seconds while the wind gushed thru the land we were walking on.
i'm not exaggerating.
it really broke and i didn't bring it back.
what a pity cuz i quite like it. :(
my foldable umbrella from Cold Storage is even more durable.
it overturned in the typhoon!
but at least it didn't break.
we finally reached our hotel safely.
we only realised the seriousness of this typhoon when we could hear it through our closed windows in the hotel.
my windows were vibrating.
the wind sounded like thunder and there was no thunder.
i could see from my windows that the rain was moving in all directions.
for a moment, i thought my windows would break.
Read more about Talim typhoon here
it's reported to be the strongest typhoon on the scale.
i'm not sad that it spoilt my holiday, instead, i take it as an experience which is once in a lifetime since i don't live in Taiwan.
i'm more amazed than anything else.
we spent the whole night in the hotel watching TV.
luckily, we had over 100 channels to entertain us.
the next morning, i was awoken by the fierce sounds of the typhoon.
it was really loud.
we could hear the occasional sounds of signboards falling on the floor.
the typhoon sounded like it's hurling vulgarities at us.
it's real scary.
Dan Shui and other mountainous areas was flooded.
and 2 people were reported dead.
homes were destroyed.
an ambulance overturned.
traffic lights were dangling in the air.
signboards and trees were splattered on the grounds.
at that time, i just hoped it will leave Taiwan.
we were hungry and decided to take the risk and cross over to the 7-11 opposite for some breakfast.
we were quite hesitant as the wind was still strong.
but the receptionist at the hotel says it should be ok since it's just opposite.
so we went ahead.
there were a handful of people walking around too.
i guess they were already used to the occassional typhoons that hit Taiwan every year.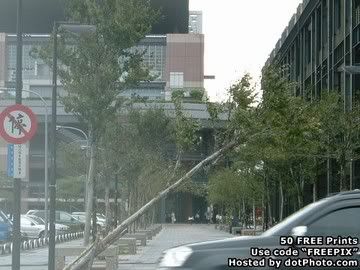 this was taken during the typhoon.
that was the last time we ever felt the typhoon cuz it was leaving us, heading to China.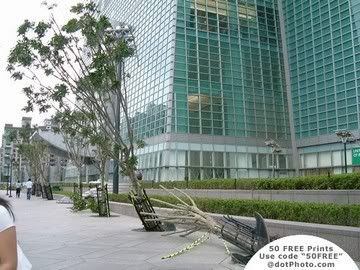 fallen trees.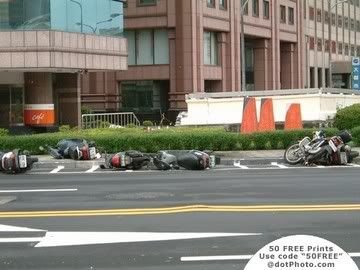 scooters which fell.
ok, that's all for today.
i shall continue tomorrow, covering Xi Men Ding, Taipei 101 and some other places!
good night.