i can't stop shopping recently!
i really need mopiko on my fingers, or better still, chop them all off.
and the best thing, i'm spending even when i'm home.
or should i say, i spend the most when i'm home!!
well, here are my darn buys!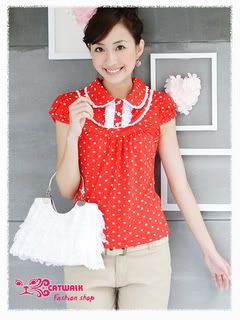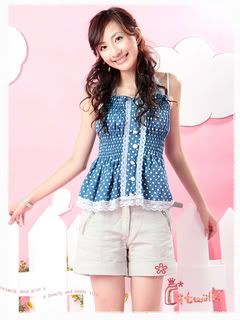 i have a fetish for polka dots.
why didn't i appreciate the time when i had chicken pox?
i had polka dots all over my skin then!
Hairclips!
not only do i buy tops and shoes, now i buy lots of hair stuff too!
in case you were wondering why i'm so silly as to buy so many of the same clips in different colours, well, i actually only bought 2 butterfly clips (green and pink), the yellow one was given to me free by the kind seller who said the green one had a slight defect.
if only all sellers were like that!
the internet would be a fabulous place to trade and sell :)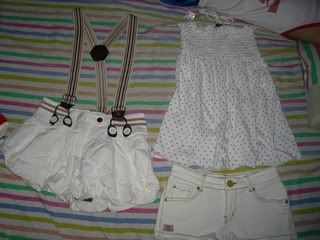 Bubble shorts with suspenders, polka dot smocked babydoll, Hollister look-alike shorts.
i noticed my buys tend to be repeated!
argh, what's wrong with me???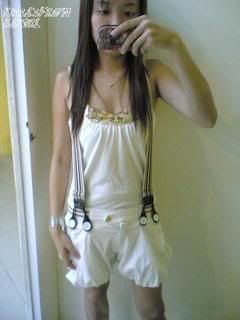 here's how the bubble shorts+suspenders look on me.
was hesitant on buying this when i was trying it in the fitting room.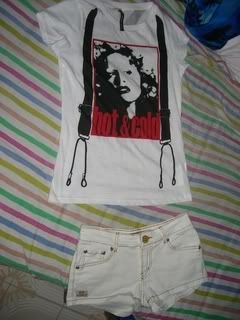 Tee from Zara!
i'm now on a temporary shopping ban!
let's look at good food now!
i can ban myself from shopping but i can NEVER ban myself from food!
lots of good food do not cost much, i enjoy the luxury of having really delicious food without hurting my wallet much.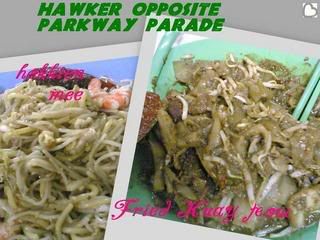 The hawker centre opposite Parkway Parade (the one next to Mac's) serves some really good food.
Like the famous Apollo Fried Kuay Teow which is the best i've had in Singapore.
They've been around for years and even have their own special spoon to scoop up the kuay teow!
Very tasty and moist!
Hokkien mee is great too!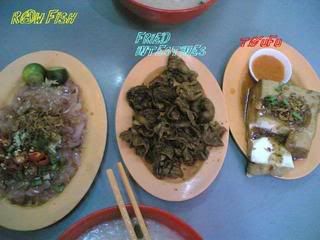 Porridge at Chang Cheng, Chinatown. (near Lucky Chinatown)
this stall is rather famous and opens 24 hours (i think, either this or opens till late)
try their fried intestines, i don't like this but many others do.
and their toufu.
besides Chang Cheng, i like Maxwell Market's Porridge too!
their toufu is super soft and melts in the mouth!!