i came home today and saw my shopping loot from mew!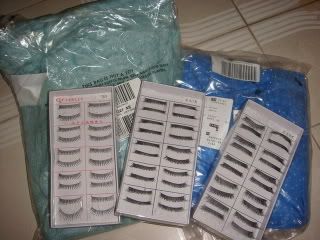 Stuff from Victoria Secrets and Patty Wong's falsies bought some time ago.
actually i prefer using falsies than mascara, as they have nicer effects and easier to clean up than mascara.
but i think (or heard from somewhere/someone before) that using too much of either isn't good for lashes. nevermind, haha, luckily there's eyelash treatments like the ones from foltene which strengthens the lashes after using falsies/mascara.
but of course, even though eye lash tonics/treatments do make lashes thicker and stronger, they cannot possibly produce the same kind of effects which falsies can easily produce, therefore, vain girls like me (and JAC!) still love falsies no matter what!
falsies are so common nowadays and with some practice coupled with patience (you need plenty of patience), the art of putting them on will be skillfully mastered for most. unless you have hands that tremble vigourously or you're really clumsy that you can't even hold a small pair of falsies properly with 2 fingers, then i suggest you better don't try.
anyway, Patty Wong has some really good, cheap and natural looking lashes. She's a seller from Taiwan and i get my supply of Patty Wong's lashes thru occasional sprees from communities like spreehouse.
i tried on the lashes i received, and took some pics to show some live examples of how they look like when worn:
#703- very natural and great for work.
doesn't it look like lashes with mascara only?
#715- this is the one that i use most of the time when i'm out. my personal favourite!
Princess #7 black- i had a hard time sticking these on, the lash bone is kinda hard and i had to bend it so that it can fit my eyelids.
it looks quite thick but when worn, its still kinda natural, i feel.
Princess #8 black- this is same as princess #7 black just that it's thicker and slightly longer.
it's more dramatic too.
By the time i got to this, i was already very lazy and tired of sticking them on, so pardon me for this clumsily pasted pair of falsies.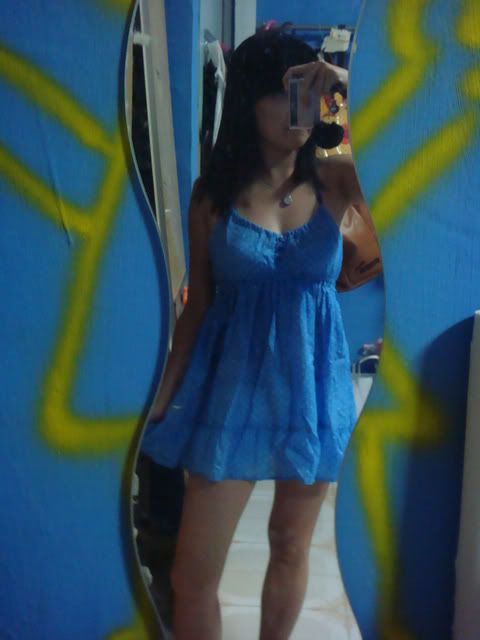 My VS babydoll top.
it's actually really a top which i think is too short for me to wear as a dress, so i have to wear shorts inside otherwise i will look really obscene as it's quite sheer too.
it would be perfect if it's slightly longer, at least i can wear it as a proper dress.
now it's like not long not short, i don't know how to match it also.