Kuishinbo was truly fantastic just now.
i ate until i couldn't move.
everything seems nice and i had to try them all!
my stomach had no space but i still keep stuffing food in my mouth.
i ended up with a stomachache.
and a few more grams of fats in my body.
anyway, here are the pics: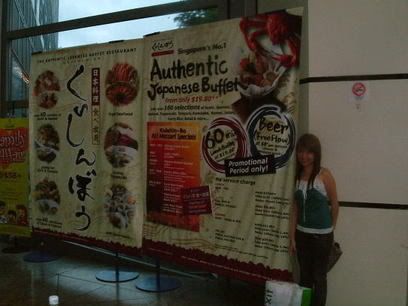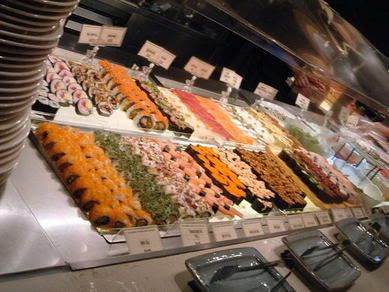 Sushi!!!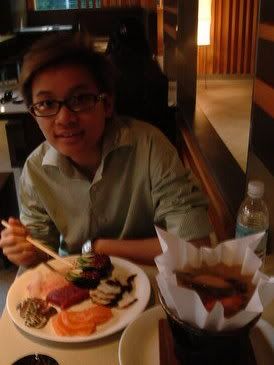 Sashimi and Paper Steamboat.
i have endless praise for both.
Sashimi is fresh and sweet :)
just what i like.
it comes in Salmon, Tuna, Octopus and Tai.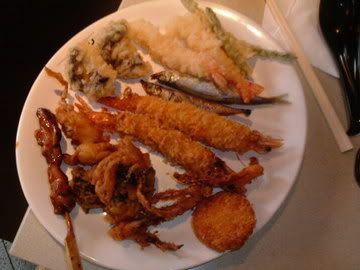 The Spanner Crab (left)
The Snow Crab (right)
Snow Crab is only available during dinner buffet.
it's very meaty and nice.
The Spanner crab pales in comparison.
i think it's just me, but i didn't really like the taste of it.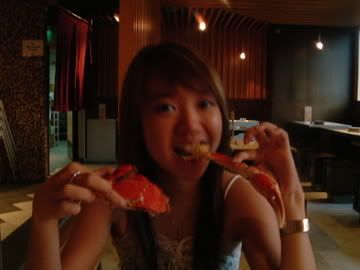 gigantic legs it has!
battling with the crab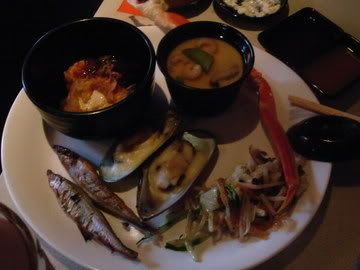 i love the shishamo.
bing loves the chawanmushi which is very very smooth.
the teppanyaki veggie is nice too, like normal stir fried veggies.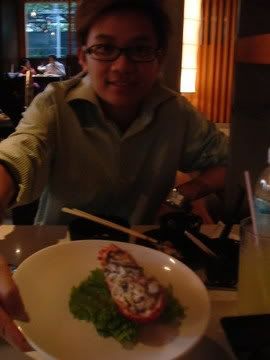 cheese lobster!
this is a special order and only the first 26 customers in the queue gets it.
you can skip it cuz it ain't fantastic.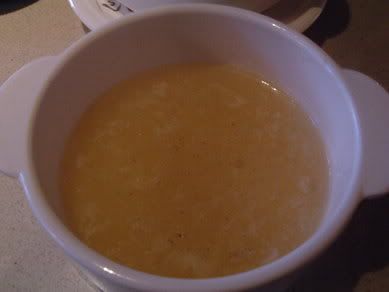 Sharks Fin soup,
which looks and tastes like corn soup.
i'm disappointed with this.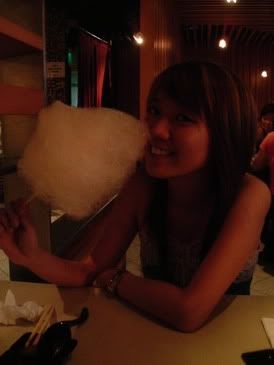 my cotton candy!
"cotton candies are for kids!"-- i heard a big burly guy say near me.
yes, i'm a kid, one that never grows.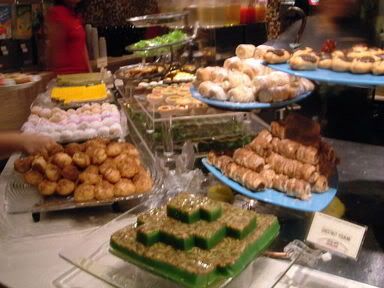 just look at this!!
among all the buffets i've been to, i love Kuishinbo's tantalizing spread of desserts best!
i like everything!
from the green tea cheese cake, mango-blueberry cheese cake, fruit salad, chocolate mousse, cream puffs, chocolate eclairs, chocolates, jellies, soft serve ice cream (it's really very soft, i love its texture but the chocolate ice cream tasted weird) etcetera, etcetera, etcetera, i just love love love love love Kuishinbo's range of desserts!!!
and their apple vinegar drink!
Dong Dong Dong, 123, we love Kuishinbo!
i'll be back!
my shopping loot: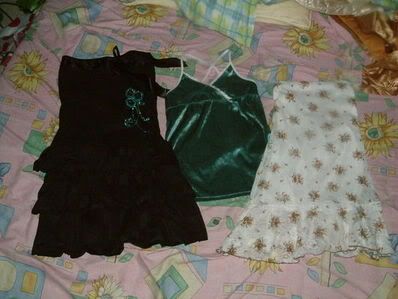 i'm a happy happy happy girl today :)
(i wish, hope and pray everyday will be like today)
but i know not everyday is Sunday.
before i go, i recently just coloured/highlight/cut/treatment my hair for only $125 nett!
cheap ya?
TATA!