Ichiban Boshi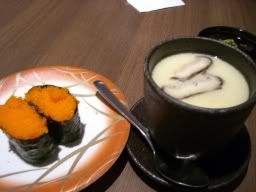 very nice chawanmushi!
its comparable to the one that i had at Kuishinbo.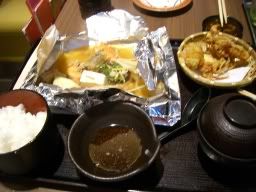 i had this Salmon Bento set.
it comes witn tempura as well.
it's quite cheap but i don't remember its price.
i find it so-so.
the salmon has more bones than flesh.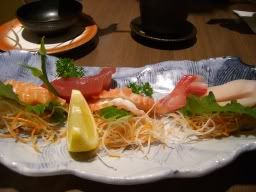 as usual, we would never ever miss this out whenever we dine at a jap restaurant.
fresh assorted sashimi!
i'm so contented with this, there's maguro, tai, salmon and i'm not sure what else.
i love salmon and tai, bing loves maguro!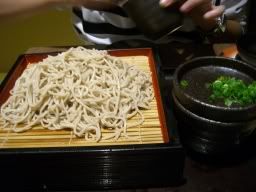 hand made soba.
some of you may know this jap restaurant at Paragon selling handmade soba, Ichiban makes soba the same way as how the restaurant at Paragon made theirs.
i've seen the demonstration and was very impressed.
the chef uses a special kind of knife and swiftly cuts the whole big piece of flour into ultra thin stripes at a super fast speed!
and i heard it's very nice.
however, when i tried this, i was greatly disappointed.
it's not 'bouncy' in texture at all.
in fact, it's more sticky than bouncy?
or was it meant to be like that?
we ate like pigs, we ate more than what normal 2 people would eat.
the bill came up to $60+ in the end which i found rather reasonable for so many items!
Dining at Ichiban Boshi had been a pleasant experience.
it's a cheaper alternative to my favourite Kuishinbo and Waruku!