JAPAN TRAVAGANZA 2007
DAY SIX (6th April~OSAKA)
I can't remember what fish is this
Breakfast!
Strolling along Den Den Town.
Den Den Town is a place where you can get cheap deals for electronic products, it's equivalent to Tokyo's Akihabara.
Sushi Memory Storage!
They're cute and not very expensive!
Darn, why didn't i buy one?
Pretty Japanese Handphones!
It's very hard to get a handphone in Japan because the phones do not have slots for insertion of simcards.
JAPAN TRAVAGANZA 2007
Snack time at MacDonald's.
There was this promotion for MacNuggets where 6 pieces only cost 100yen which is around SGD1.30 only!
Their nuggets are really nice and fresh, it's different from Singapore's.
Smoking and non smoking section in Macdonald's.
Umeda is another popular spot for shopping in Osaka.
It consists of many shopping malls and shops!
Buying food again.
Back at Shinsaibashi area, we prefer shopping here.
This reminds me of DIOR in Taipei.
Japanese Pizza.
Another street vendor selling BBQed stuff.
*i love Namba for all it's great food!!*
Osaka is known as Japan's FOOD CAPITAL!
A fire engine stopped right outside our guesthouse.
Seems like a casualty has happened nearby but no one knows what happened.
Everyone crowds around to look.
On the way to our night bus' destination.
We're really tired!
This very kind girl walked us all the way to our destination when we asked for directions!
The walk was around 10 mins and she even helped us carry our luggage!!
Our 'shower position' every morning in Osaka.
LOL.
Bye Osaka, Hi TOKYO!!!
Tokyo, the best part of the trip is here in Tokyo.
Stay tuned for my next update.
________________________________________________________________________
anyway, here's what i bought recently:
Shiroi Koibito White Lovers Chocolate from Hokkaido.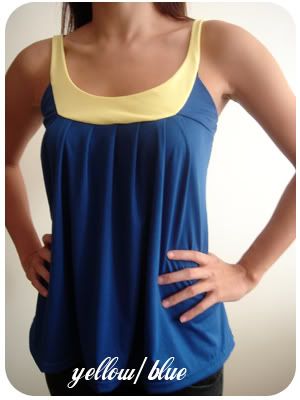 Two-toned Cami in Royal Blue and Yellow :D