Carnivore, a Brazillian Churrascaria
as it's name implies, everything was about meat, meat, meat.
we had free flow of meat and salad the whole night through.
but who cares about salad when there's so much yummy BBQed meat!
they were all so tasty and the waiters would come around in skewers slicing the meat off our plates.
and soon, our empty plates were all filled up with different kinds of meat.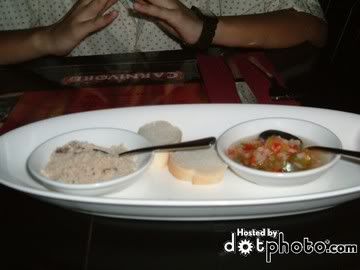 Condiments for our meat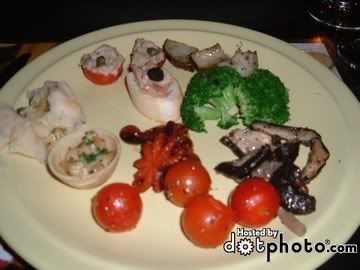 My plate- fresh from the Salad Bar
Lamb chop (my favourite!), Pork, Beef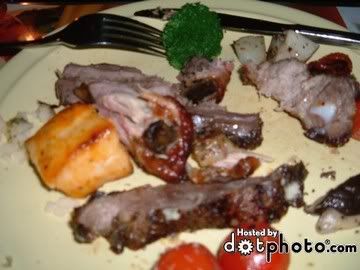 Fish, Chicken drum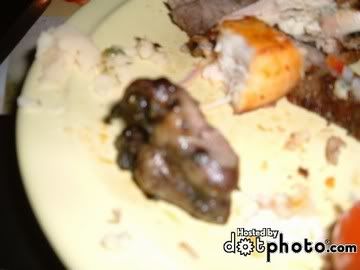 Chicken heart
Other stuff we had which are not found in the pics include Beef ham, beef drum, honey baked ham, pork sausages, beef and bacon tenderloin, chicken breast etc.
we used chips which were 2 sided to communicate with the waiters.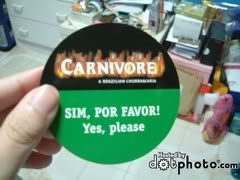 they were placed on our tables and whenever we wanted them to stop serving us, we would just flip the chips over to the RED side.
mine was never flipped to that side.
*LOL*
and one of the Brazillian waiters there even commented that i "eat everything!" in a joking manner.
i had a great time at Carnivore and would definitely go back there again.
but i felt a little bit sinful after seeing so many different kinds of meat on my plate.
so many poor animals were killed just to satisfy my huge appetite. :(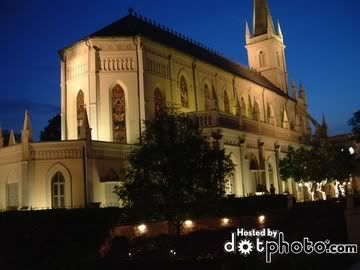 i love this pic!
oh, and i bought this straw bag for only $11!!