Day 2 @ Phuket
Island Hopping/Snorkelling Trip.
This package is to Phi Phi, Maya Bay and Khai Island.
Snorkelling equipment included, except for the fins which you have to pay 100THB per pair as rental fee.
Lunch, drinks, snacks and fruits provided.
Cost: 1200THB per person.
Pls call Mr Manit Sillaphachai at 09-2914372 to book your tour package.
or you can email him at mhanitt@hotmail.com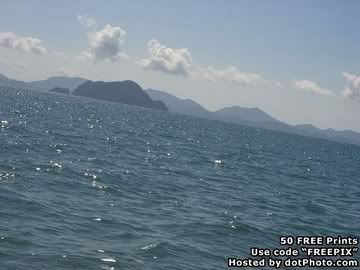 on the speed boat to Phi Phi.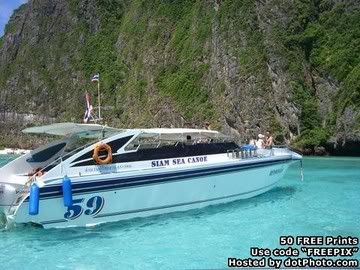 this isnt the speedboat we were on, it's a neighbouring speedboat but it looks just like that one we're on.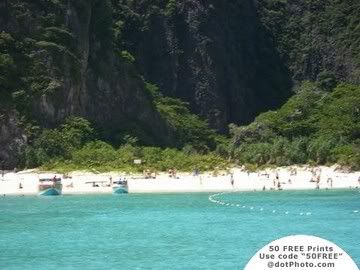 Approaching Maya Bay, the place where the movie "The Beach" is filmed, starring Leonardo DiCaprio.
our tour guide says that the crew of "the beach" stayed there for around 1 year cuz they kept things at a slow pace as they can't bear to leave the place :)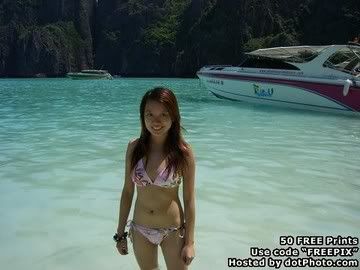 lots of tourists suntanning and swimming, all in the love of the sun, sand and the sea.
the sand is powdery and really so fine, the water is nice, clear and green.
this place is heavenly!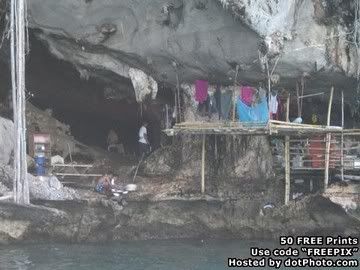 Viking Cave.
the people there stay up till 6 months just to get bird's nest from this cave.
swimming in the middle of the deep blue sea.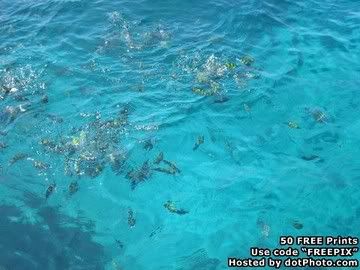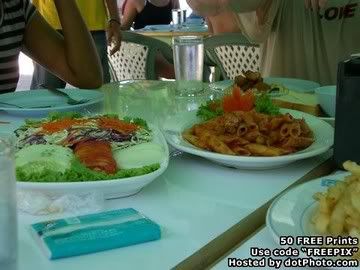 Lunch at Phi Phi Don.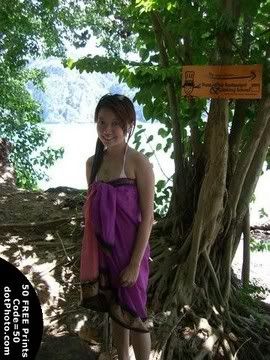 exploring this part of the island.
there are many chalets here to put up at.
Many shops selling touristy stuff and this scuba diving center where you can take up lessons and sign up for packages.
Our next destination, Khai Island.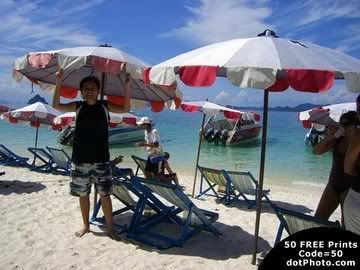 The chairs and umbrellas could be rented for 100baht if i'm not wrong.
otherwise, you can just sit on the sand and suntan for free.
The water's beautiful over here and there are many fishes near the shore waiting for us to feed them.
and they trust humans so much!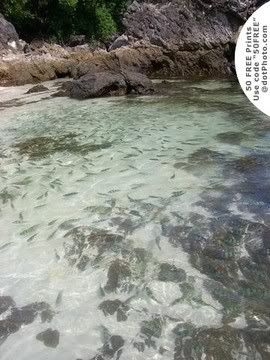 i really really love this place to bits!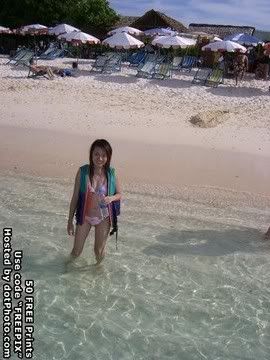 be careful of jelly fishes here, we saw some.
on board, Aquarius.
Nancy's our tour guide and she's really nice and has a very fluent, Australian like English accent although she's a Thai Muslim.
although she's younger than me, she's been through so much more than me.
She managed to escape the Tsunami, being trapped somewhere at Phi Phi Island and saw many people dying before her.
She generously shared many of her close to deaths experiences with us too.
A really lucky girl who takes good care of us as well :)
John is a tourist from America and really friendly as well.
He even paid for our souvenirs when the seller did not have small change for us.
what a nice and generous man!
i'm so glad to have met such nice people to make this trip really unforgettable :)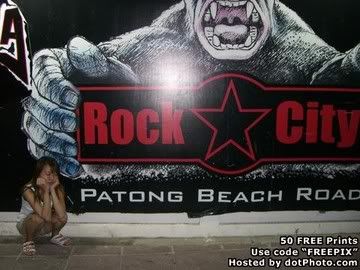 Back at Patong.
i was really exhausted and took a nap after the snorkelling trip.
this pic was taken moments after i woke up and we're searching for food!
finally found a decent and nice hawker:
Our dinner: