Leaving Phuket for Bangkok!
Having our breakfast at Burasari.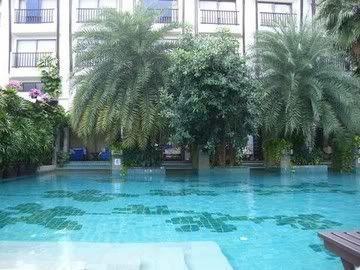 One last glance at the swimming pool area.
where the pool access rooms are :)
BANGKOK 2006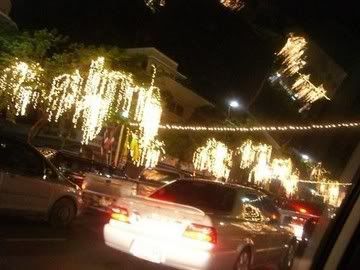 The roads are brightly lit in celebration of the King's 60th Anniversary to the throne.
Khaosan Road
, my favourite hang out in Bangkok.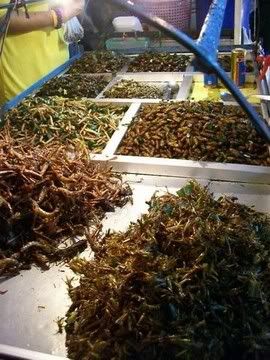 Fried creepy crawlies.
i tried the grasshoppers once years back and their legs tasted like Mamee, my favourite childhood snack.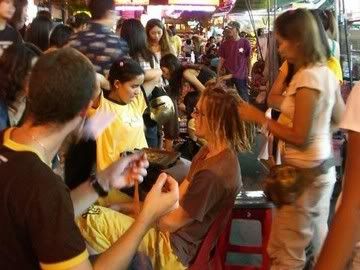 Dreadlocks, hair braiding services available along Khao San Road.
Dinner at SIROCCO, THE STATE TOWER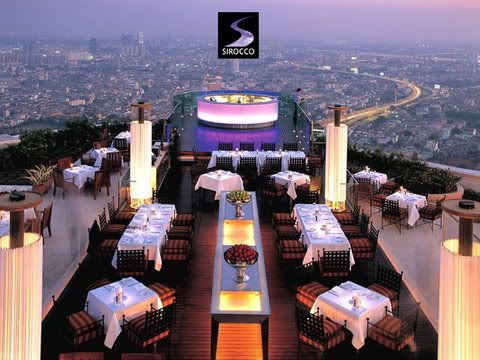 this dinner is the highlight of the whole trip, the moment i've been awaiting for.
Superb Sky dining on the 63rd storey of Bangkok's 2nd tallest building, The State Tower.
Awarded by Conde Nast Traveller's as one of the world's top 80 restaurants, Sirocco is definitely unforgettable and mesmerizing.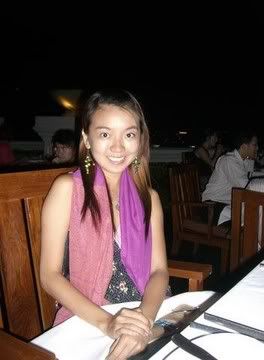 we were quickly ushered to our seats by very smartly attired servers.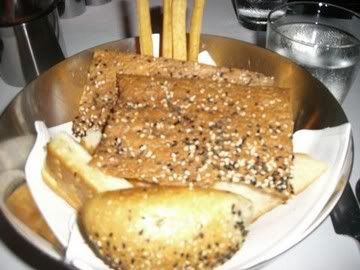 every table was served with these.
STARTERS: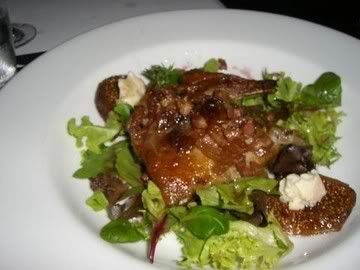 Barberie duck confit with a salad of poached figs, frisee and
gorgonzola-pancetta vinaigrette.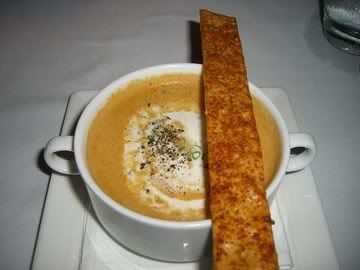 Lobster bisque flamed with VSOP Cognac, laced with lobster morsels.
After our starters, we were served with a scoop of sorbet each.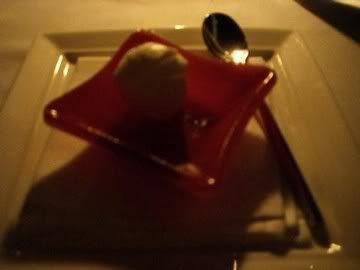 MAIN COURSES: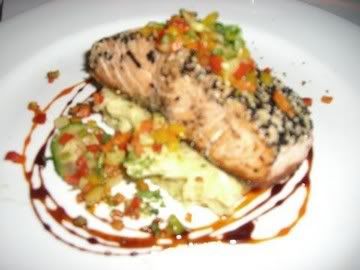 Sesame coated fillet of Scottish salmon on lobster crushed potatoes,
Mediterranean vegetable gremolata in a pinot noir reduction.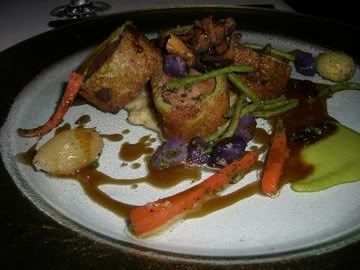 Green olive crusted saddle of lamb with Jerusalem artichoke cream and morel sauce.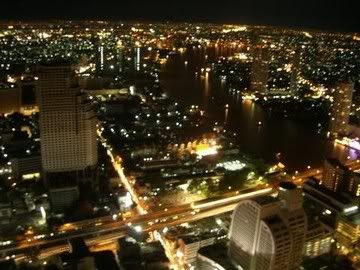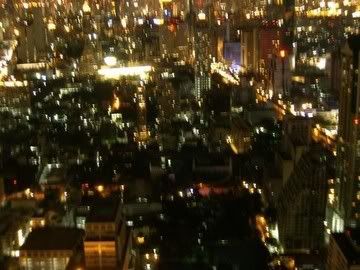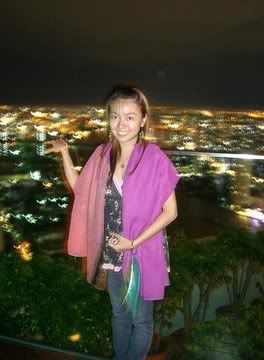 Great music from the live band above.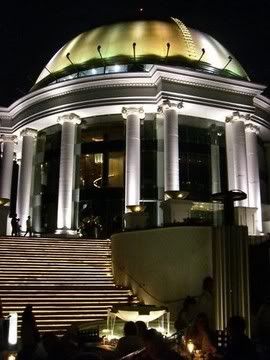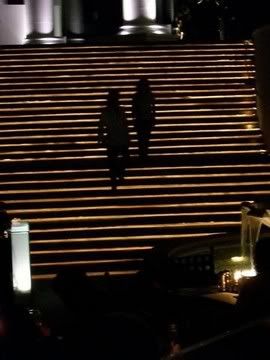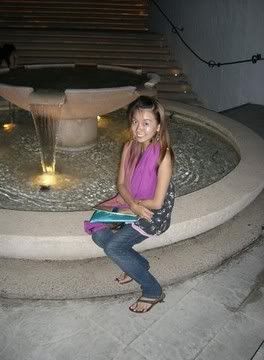 i enjoyed dinner at Sirocco, the service was excellent.
and the atmosphere perfect.
it's a place worth visiting but do make reservations beforehand.
For more info,
click here!!
next up, we went to
Memorial Bridge aka Flower Market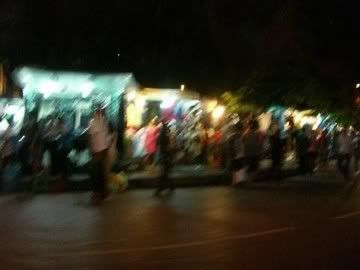 it's not very well known to tourist as this point of time and 95% of the people shopping at this place are locals.
Thus, stuff here are really cheap!
it's like a mini chatuchak with lots of clothes and accessories.
the only downside is that this place can get quite rowdy.
so just keep your belongings safe and your eyes to yourselves! :P
Erawan Shrine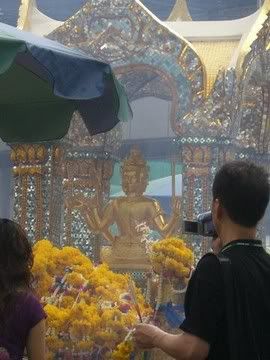 It has been rebuilt at a surprisingly faster than expected speed.
It looks more glamourous than ever and it's really crowded.
Massage at GOLDEN HAND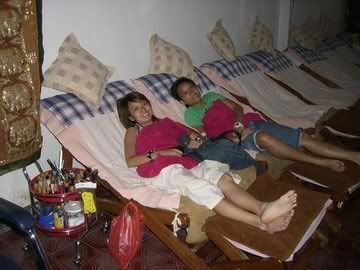 you can find this upon turning left at the exit of ASIA HOTEL.
it lies on the same row where PETER RENEE (the famous tailor) is.
i like foot massage here.
it's relaxing and the aromatherapy brings me straight to slumber.
however, body massage isn't as good.
the environment is dim and cozy but the bunch of friendly and giggly masseurs here will disturb you from sleeping.
FOOD!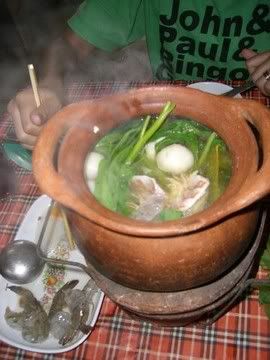 Claypot Style STeamboat!
it's yummy and cheap!
we found this along Samran Place.
Rice with pork and basil leaves.
i simply love simple dishes like these.
it's so tasty!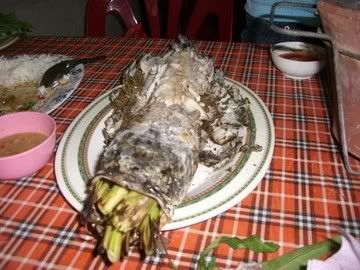 BBQed fish.
while waiting for this fish to be ready, we almost missed our flight.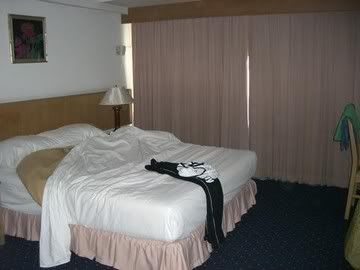 one last look at my room at Samran Place.
this time, i wasn't so lucky as to get the big room, but i'm more than happy with this.
Some cabbies do not know of Samran Place, to enlighten them, you can say:
1) Petchaburi Road
2) Direct them to Asia Hotel (it has to be on your left), go straight after seeing Asia Hotel and make a left turn upon the first turning straight after.
Continue straight and you'll see Samran place within 10 seconds or so.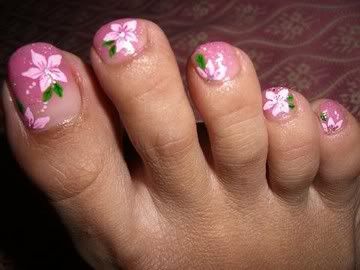 Mani/Pedi done at Plaza 29 (MBK)
cost around 700baht in total.
i went back home that night to Singapore, to be met with a lovely surprise: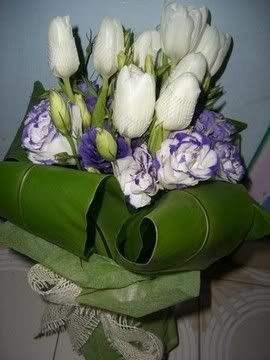 a bunch of pretty tulips!
they may not be my favourite flowers cuz they're too shy and live shortly.
but they managed to put a smile across my face :)
Thank you.
i'm flying again in less than 3 weeks!!!!!!!
yippy!
*jumps around in delirious joy*