Day 4 @ Kowloon & LAMMA ISLAND
We found this along the streets of Mongkok, it's totally yummy with the pastry being really soft and the pork fillings extremely mouth watering.
Breakfast at Fa Yuen Street Market, 2nd level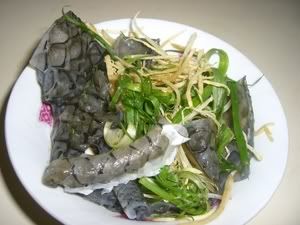 Raw Fish Skin.
Great, chewy and everything nice!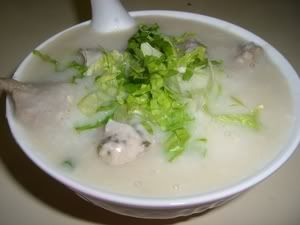 In my entire 24 years of life, this is possibly the best porridge i've had.
Brewed to an excellent texture, it tastes wonderful.
I don't know what this is called in English but a direct translation from Cantonese would be "Zhu Zha" porridge (in mandarin)
it has many of a pig's parts.
and i love the liver, very thin and chewy.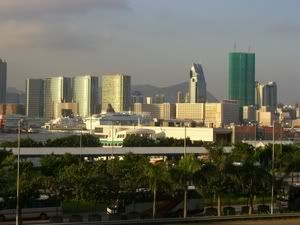 At a ferry terminal in Central, on our way to Lamma Island which takes around 20 minutes.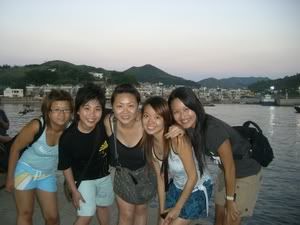 we have reached Lamma Island.
Way of life is simple and very much less hectic over here compared to the hustle and bustle in other parts of Hongkong.
In case you were wondering why we were here, we were invited by dear Kiki for a BBQ at her place here.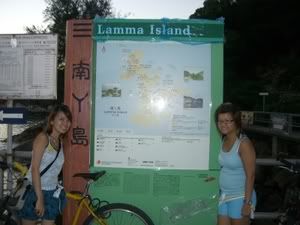 There are no roads here and so, automobiles are prohibited.
Villagers here get around on bicycles.
Lots of expatriates choose to retire over here and most of them have big dogs as their companions!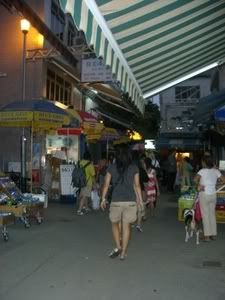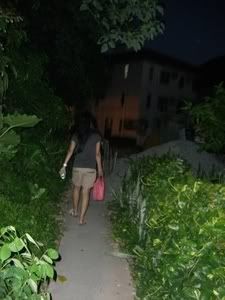 On the way to Kiki's house.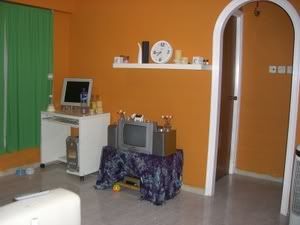 Her place is really cosy and i like how simple it is.
It has one living area (the one in the pic)
and 3 rooms, namely her bedroom, the kitchen and the bathroom.
Rental here is cheap too!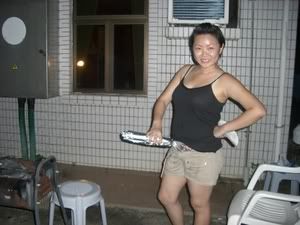 That's a brinjal, mind you.
yes, we BBQ-ed brinjals.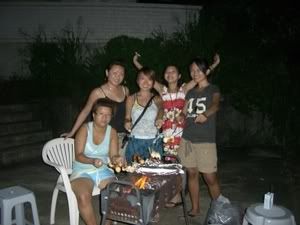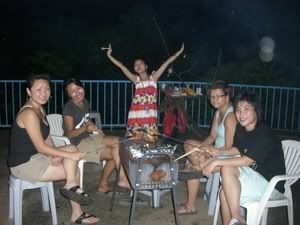 The style of BBQ-ing here differs slightly from how we alwayz BBQ in SIngapore as you can see from the pic.
We were all given long skewers and sit around the BBQ pit to cook our food and chat.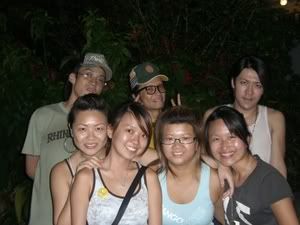 We were greatly entertained by our new Punkster friends.
They're hilarious and communication is just like that of a chicken and a monkey.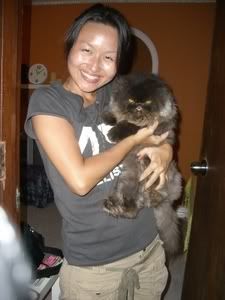 The cat named "HAK MANG MANG" (pitch black in Cantonese)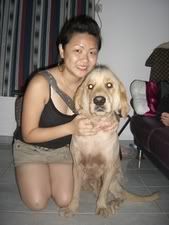 The dog named "Mel Ken" (i don't know what it means)
We're back at Tsim Sha Tsui having fantastic desert at
Sweet Dynasty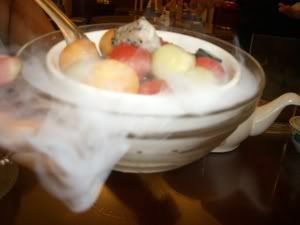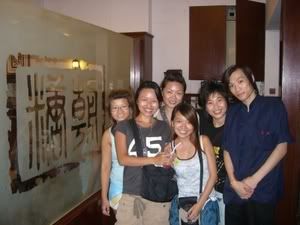 This restaurant located along Canton Road (near Harbour City Shopping Centre) is very famous, even among celebrities for their fine quality of desserts.
This is my third time here already.
If your stomach allows you, do try their Wanton Mee.
Superb.
Day 5 @ Guangdong, Guangzhou
The bus ride to Guangzhou was approximately 3 hours.
But be careful when you're here, this is not exactly the safest place around.
Of course, there are dangers lurking everywhere in the world but Guangzhou is known to have the highest crime rates in China.
But still, i love Guangzhou, it's the cheapest place i've ever stepped foot on.
Everything is cheap cheap cheap and i mean VERY CHEAP!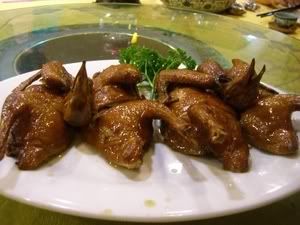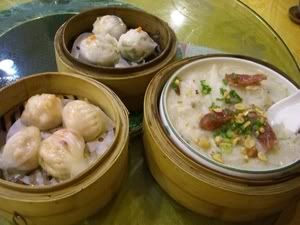 The roasted pigeon costs around SGD2+ and we ordered around 16 dishes of dim sum which costs us approximately SGD30 only.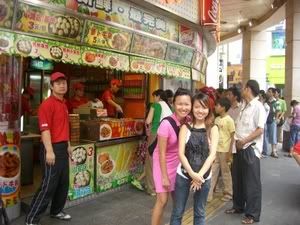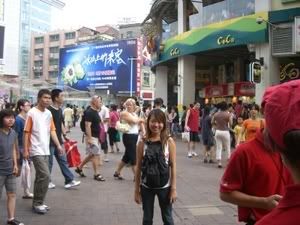 Beijing Road.
Over crowded with teenagers, abundance of food stalls selling my favourite squids, fish balls, pearl milk tea everywhere.
This place reminds me a little of Taipei's Xi Men Ding but it's bigger.
Shopping is cheap over here but not the cheapest though.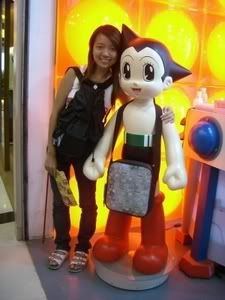 Taken in a shopping mall opposite Beijing Road.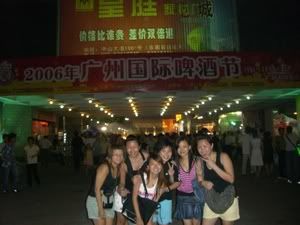 Guangzhou International Beer Festival (Jul 15th-23rd)
at Tianhe Sports Stadium.
We were so lucky to catch this with the help of my friends' relatives in Guangzhou.
Besides getting to try all kinds of beer from all around the world (i saw Singapore's Tiger!), it's also like food festival here.
We found all kinds of food from different parts of China here.
Like Peking duck, Mongolian Lamb Drum, shark meat, peacock meat, bing tang hu lu and even dog meat (we eliminated from trying this)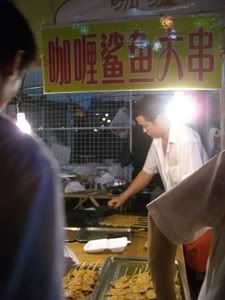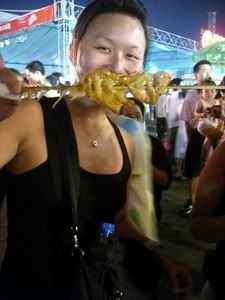 Shark Meat is very tender and tasty.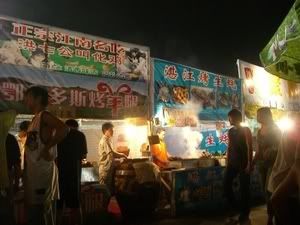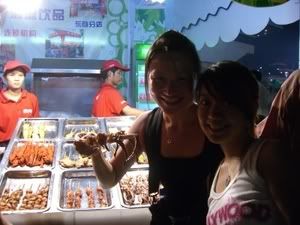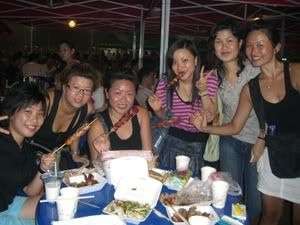 After a day of walking and eating, we decided to pamper ourselves to a one hour China style massage and another hour of foot massage.
Total cost for these treatments plus free flow of desserts,fruits and excellent service is around SGD20.
How not to like Guangzhou?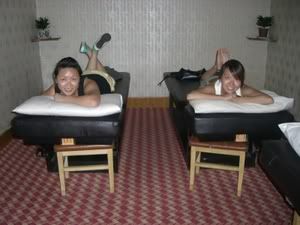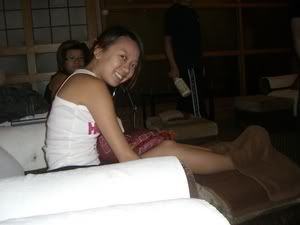 It's sheer bliss.
The masseurs are all well-trained with professional skills and adequate strength to rejuvenate my whole body and sooth my aching feet.
We had our princess treatment at this Spa Center called "JUN KANG YUE HEALTH CENTER", it's located on the 5th floor of Guangzhou Hotel.